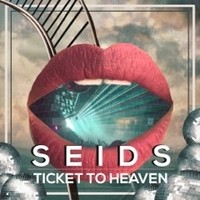 Ticket To Heaven recalls the halcyon days of trance pop. With neat little flourishes, SEIDS celebrates this nearly forgotten sound. Light on its feet the song has an optimism that is undeniable. Build-ups are quite satisfying as SEIDS includes small elements of funk and rock into the mix. Rather full these elements revolve around her cheerful positive voice. Lyrically the song focuses on love and romance. Indeed by taking this tact the song gains an almost twee sensibility as the feelings are those of pure giddiness.
"Ticket To Heaven" Single:
Spritely chords open the song up. Quite quickly the vocals move to the front and center of the track. By the time the rhythm starts up in full the sound is positively infectious. Perfectly balanced between funk, dance, and trance, the piece glides by effortless. Lower register bass lines help smooth the sound out. Hand claps keep the song party-centric. Various synthesizers bloom in and out of the mix. With even additional reiteration the piece gains greater energy. Giving the song a large dollop of sugary sweetness the piece is completely delectable. For the final stretch of the song the piece pivots towards a fevered pitch of sound and vision. Those last few moments are particularly enjoyable as the electronic effects fall out leaving behind the strength and power of those magnificent polished vocals.
SEIDS recalls happier sun-drenched moments in life, the sort of small moments that make life so lovable. This is what pop should always be.
http://www.meetseids.com/
http://facebook.com/seidsmusic
Posted by Beach Sloth