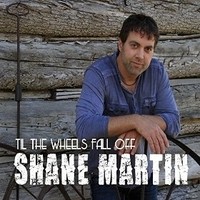 "Til The Wheels Fall Off" is full of heart and soul. Shane Martin's voice leads the way with confidence and power. With each additional song comes yet another well-crafted narrative. As much a songwriter as a storyteller, his songs work together to travel across a lifetime. Best taken in as a whole, the songs work together to show an eclectic mixture of pop, rock, and country.
Audio:
https://soundcloud.com/shanemartinmusic/sets/til-the-wheels-fall-off
Beginning with the rambunctious "I Am What I Am" the collection kicks off with a colorful view of childhood nostalgia. Passion has such humble origins and to revisit them long after that initial impulse is a thing of true glory. The rhythm's strong pulse helps guide the song towards the light with inspired guitar work. "She's Got Me Right Where I Want Me" is an energetic hook-filled pop gem with everything in its right place. Here Shane Martin opts for an almost unstoppable sense of giddiness. For a hazier point of view is the day-after hangover song of "Whatever Floats Your Boat" whose sense of humor is infectious. Tender in tone is the quiet work of "Georgia Peach". Tapping into the best classic rock tradition the song is a true celebration of the fun brought on by late nights of drinking. Ending things on a dreamy reflective note is the title track "Til The Wheels Fall Off". With a true sense of purpose the track brings things to a satisfying conclusion.
Inspirational and downright beautiful, Shane Martin's "Til The Wheels Fall Off" is a diamond in the rough, showing the power of pop.
http://www.shanemartin.com/
http://www.facebook.com/pages/Shane-Martin/52992824131
Posted by Beach Sloth