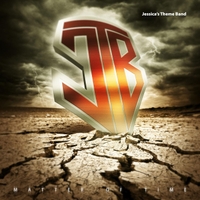 "Matter of Time" is a rollicking good time. Jessica's Theme Band pours a great deal of heart and soul into these songs. Nicely interwoven the songs build off of each other as they explore the best of classic rock. At times this gives the songs a familiar sound as if they have not only listened to classic rock but literally lived it. This appears to be true throughout the album as they nicely pivot between funky grooves, outright rockers, and the more reflective pieces.
Buy:
http://www.cdbaby.com/AlbumDetails.aspx?AlbumID=jessicasthemeband
Jessica's Theme Band introduces themselves with the stately grandeur of "Big Story". Alternating between taut classic rock funk and outright expansive territory, "Matter of Time" handles a lot. Opting for a full on jam is the heat of "Black Cat". Lyrically the song is quite playful and explores the concept of desire. More sensitive relatively speaking is the quieter work of "Everything Goes". Showing off their technical prowess is the accomplished work of "Hard to Be a Hero". At times recalling so many long gone classic rock groups, "Hard to Be a Hero" has the right mixture of defiance and hope. By far the highlight of the album it blasts forth with great energy. Taking a different turn is the rebellious nature of the title track "Matter of Time". Turning down the amps is the sweetness of "My Faith in You". Closing the album off on a high note is the silky grooves of "Station to Station".
"Hard To Be A Hero"
https://www.youtube.com/watch?v=y95-sLGnsqY
Jessica's Theme Band are reminiscent of an earlier, more passionate time in rock.
Posted by Beach Sloth