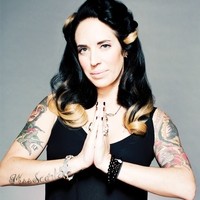 The Voice, an admittedly more upscale version of its hugely successful and crass older cousin American Idol, has distinguished itself for many reasons. However, the show's "mentoring" feature, where a celebrity participant coaches the contestant, has distinguished itself from the beginning as one of the show's marquee gimmicks. Maroon 5 vocalist Adam Levine coached Kat Perkins during her season six appearance on the show, but her debut release Fearless proves she needed little, if any, coaching. This five-song collection tilts largely in favor of tough rockers and it's invigorating to hear Perkins so proudly and confidently wear that mantle. The production gives everything a high-grade gloss that snaps out of your speakers and Perkins seldom relents on pushing her voice as far as it can go.
It's clear she means business from the start. The title song starts things on the widest possible canvas with its grand sweep and tasteful arrangement. In the hands of lesser musicians and composers, you'd undoubtedly hear the growing impatience for climax, and sadly some modern listeners will feel bored by this song, but those with ears to hear will find a trove of riches in this song if they give it the needed time. Perkins brings together a number of disparate musical influences together and gives her phrasing considerable care to move with the rising and falling of the song. "Paris" is an out-and-out rock song undermined from the outset by inexplicably absent guitars. The minimalist riffing needs to have a prominent position in the mix if a relatively stripped back song like this will have full impact. As it stands, however, "Paris" has strengths, particularly its tempo changes and Perkins' fiery vocal.
"Barracuda" covers Seattle rockers Heart and isn't nearly as successful. There's no lack of respect or attention to putting out a solid cover, but there's apparently no ambition for anything else. The final result is a band that pounds out an earnest, but fruitless, imitation of the original while a relatively disinterested Perkins makes sure to hit certain points without moving the listener. Fortunately, "Good Girl" doesn't carry on in a similar vein. It addresses the weaknesses heard earlier in "Paris" and production gives the song omnipresent rock muscle.
Fearless hits and misses, but Perkins is a real talent clearly capable of moving far past her television experiences. Her nearly two decades as a public performer and songwriter have given her the tools she needs to make maximum use of her talents and Fearless is her first bold step in that direction.
PANDORA: http://www.pandora.com/kat-perkins
URL: http://katperkinsmusic.com/
8 out of 10 stars
Robert E. Fulford