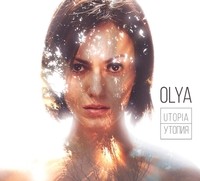 Neon-hued, Olya's "Utopia" is a pure pop confection. Her vocals are honeyed, the sounds are sweet cheerful elements. Together these elements create the kind of thing pop music was made for: reassurance, happiness, and finding the joy in life. Song are full of infectious hooks and the melodic sensibilities found within them are sound. Everything within the collection is drenched in sunlight.
Audio:
https://soundcloud.com/olyamusic/sets/utopia-ep-2015/s-WiZTE
Buoyant synthesizers introduce the bouncy tempos of "Misli". With great attention to detail the song teems with life. Veering from the minimal to the maximal the piece reflects upon both approaches making it a particularly playful piece. Her vocals serve as the heart of "Lift Me Up". Stripped away of excess the song's intense focus makes its first half quite intimate. For the latter half Olya opts for busier, more percussive elements to bring into the mix. Taking a cinematic approach is the hyperactivity of "Crash and Burn" whose sound is passionate. Her vocals manage to swim above the many streams of sound giving the song a defiant tone. "Utopia" the title track, settles into a comfortable off-kilter groove. Fluttering along nicely is the elastic exuberant grooves of "Iskala Tebya". Ending the album off on a reassuring note is the lush work of "Ne Zrya" whose combination of classical and electronic themes is woven together quite elegantly.
Live Performance of "Utopia":
https://www.youtube.com/watch?v=WO36eCSpN8E
Olya's "Utopia" paints a picture of a perfect kind of pop: one where happiness resides and thrives.
Posted by Beach Sloth