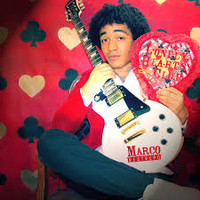 Marco Antonio Restrepo was born in Marietta, GA, the son of Nigerian and Panamanian immigrants. He moved throughout Atlanta during his childhood due to the separation of his parents but he was primarily raised by his mother. At age 6, Marco was exposed to several different types of music by his father, who was a fan of many genres. Whether salsa, pop, or hip hop, Marco would make it a habit to memorize his favorite songs and sing them back to anyone who would listen. Marco cites The Beatles, Nirvana, Outkast, 2Pac, Big L, T.I., and Sum41 as his biggest musical influences.
Stocked full of hooks and a jovial playing style that never lets it's guard down, to melodies which linger long after the playing has passed, Lonely Hearts Club provides fourteen buoyant and inventive tracks which play like new adventures, yet approaches them like old friends you feel you've known for a long time. This latest release pleasantly embraces the ears and is in a league all by itself with an elite spirit of eagerness and vibrancy. The unique melodies soak every accomplished note from the beginning of "Saw You Standing" through to climactic end of "Freak". It offers many musical familiarities, wearing those inspirations proudly on its sleeve showcasing eclectic musical influences hinged on impressive musicianship and a unique signature sound. Case in point: This is one of the most original sounding singular artists I've heard in quite some time. Restrepo mostly reminds me of a cross between Bruno Mars and Paul McCartney. It's fair to say that the CD does not come down from the high of Track 5 "Rihanna" and hypnotic "Love it". Though it certainly provides a consistent balance of genres like Rock, Funk, Pop and Electric Soul. As the CD slowly advances the melodies, addictive hooks return sporadically from time to time with a beckoning potency far away from the mediocre mainstream. Bottom line: there's something much more adventurous about this release compared to most of the CD's that slide across my desk this year. Restrepo takes a lot of chances with his music. All tracks emerge from a modest sonic web producing much in the way of thick yet swirly bass lines, chimed guitar, Piano, and conservative drums. The instruments, and subsequent meticulous movements provided by this experienced band will leave their mark on you instinctually and inspire the imagination. Restrepo's voice does not jump out but has a modest quality which defines itself and work well within the setting of each piece. His mesmerizing baritone coupled with the soulful rock canvas paints you an impressive picture upon a virulent musical canvas.
My favorite track is probably "Rihanna." Another interminably seductive piece offering waning poetic ambience and sure musical direction is "Want You Now".
I really want to hear more Rap and Hip Hop flavors merged into his music, but regardless, Lonely Hearts Club by Marco Restrepo is a good listen any way you slice it. No doubt he will fine-tune his sound over the next few years as his sound evolves. Rather than slam him on some of this albums slight imperfections, I think this is a strong debut CD simply because it all feels so real and genuine. It's a ripe musical invitation into the world of a red hot band from Georgia. At the least it will satisfy many, thus filling the void left by millions of band who cannot dive this deep – not even close. This outlier style of music is not only mastered by the Marco Restrepo. He also deserves a much wider and attentive audience to say the least..
CD BABY: http://www.cdbaby.com/Artist/MarcoRestrepo
URL: http://www.marcorestrepo.com/
Cory Smith