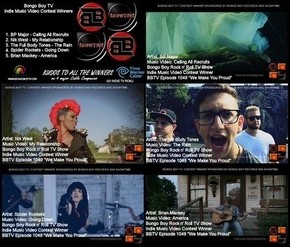 On May 22nd 2015 Bongo Boy TV chose 5 winning music videos that were selected out of thousands of entries through Reverbnation high technology platform, email blasts and social media promotions.
Earlier this Spring, independent musicians with an original music video were able to enter the 3rd International music video contest for free with a Reverb Press Kit account. This contest was open to all genres of music and ran through May 18th, 2015. The contest was shared by 1 million artists and bands and sponsored by Bongo Boy Records and SHOWTIME. Episode 1049 " We Make You Proud " also debuts the music video by Abiogenesis – Voices in Kisama from India and the exclusive premier on National TV of latest music video "Love Jones" Ft. MelodiQ by Conceptz from New York City.
This review is by CA Marshall; staff member at Bongo Boy Records and editor for Starlight Music Chronicles. For a first time behind the scenes look at the top 5 winners of the Bongo Boy TV Indie Music Video's from around the world competition, I have to say, it was like going to the fair and being told you would be able to go on all the rides. Here's why:
When you begin a show listening Australian born and Los Angeles based BP Major – 'Calling All Recruits', you are literally setting the stage in your own living room for an all night dance party. This artist is on serious fire and shows no signs of stopping with electric beats that are sure to get your body moving and stay locked in your head long after the song ends. The video only amplifies this with a creative combo of mysticism, mystery, glamor and brilliantly lit neon effects. It's been a long time since I have been inspired to review a video that I wanted to view more than once, and BP Major is the whole package. Music Video Director: Mairin Hart
Contact info: www.bpmajor.com
Second winner, is Phoenix, Arizona born Nik West featuring Orianthi with her music video 'My Relationship'. It's clear from the start that this young talent's true relationship is with her bass guitar – her playing is impeccable! This young lady's talent is video presence is charismatic and full of combustible energy which transcends throughout the music video. Her overall 'look' is refreshing and almost reminiscent of a young Tina Turner with a bad girl twist topped with a powerful kick in vocal ability. Definitely one to watch. Music Video Director: Steve Swersky and Paul Boyd
Contact info: www.nikwestbass.com
Third Winner is Full Body Tones from Lexington, Kentucky with their video 'The Rain' which is a song and video full of energy; clearly, this is a band who enjoys what they are doing and it shows in their enigmatic and upbeat video. The band, comprised of Joe Fulton (Front man), Willy Freedbody (drums), and Craig Sullivan (Bass Guitar) has acquired a new wave 'hipster' vibe with harmonies in synchronicity with compelling guitar riffs. Music Video Director: Dave Hufana
Contact info: www.fullbodytonesmusic.com
The fourth winners are New Jersey based band Spider Rockets with their video 'Going Down'. One can only sum this up as rock and roll at it's baddest and darkest with strong 'classic rock' vibe. This band doesn't 'do rock' quietly, they do it loud with a big (albeit tattered and torn for special effect) bow on top. Lead singer Helena Cos and guitarist Johnny Nap are the dynamic duo that make up this powerful team which clearly transcends to: big things come in small packages!
Music Video Director: Jason Nappi and Roman Fernendez
Contact info: www.spiderrockets.com
The fifth winners of the video competition is New York based Brian Mackey with his video 'America'. Now, it's been a long time since I have listened to Neil Diamond (was a favorite as a girl growing up) but this young talent has encased Diamond's iconic vibe along with his own finesse and turned it into something really golden. I went on to listen to Mackey's other songs on iTunes and the whole album is consistent with the same midas touch. This is a song which is upbeat and reminiscent: it encapsulates the essence of 'belonging' through it's clever lyrics and sound if what it means to be 'American'. Well done sir! Music Video Director: Nick Cavalier
Contact info: www.brianmackeymusic.com
New Videos Launched in this episode are all the way from Dimapur, Nagaland, India by Abiogenesis and their music video "Voices of Kisama" as well as Closing out a National Television exclusive by Conceptz featuring MelodiQ and their latest music video "Love Jones". Both videos are a wonderful new experience for those who are lusting for new music for the senses. Abiogenesis album 'Aeon Spell' released by Saregama in 2007 was listed for Nominations in the 50th Grammy Awards in the Best Contemporary World Music album of the Year. Conceptz is a breath of fresh air by paving the way with their 'New Era' rap sound with hip hop roots.
Abiogenesis Music Video Director: Pritish Chakravorty
Contact Info: http://www.abiogenesis.altpro.net/
Conceptz Music video Director: Christian Strickland
Contact info: http://ConceptzMusic.net/
CA Marshall's Own Summarization
If I were to choose my personal favorite(s) of the five winners, I would have to go with BP Major and Brian Mackay. BP Major for creating their own unique 'Tech Sound' that had me moving from the first beat with stunning visual effects and killer dance maneuvers that you simply cannot look away from while the video/song is playing. They are the whole package when it comes to a Unique Techno Dance experience. I honestly wish I was present for the filming of that video! Brian Mackey is equally as great for a whole other reason: he is effervescent of a time when many artists were creating new genres and assuming their roles as such by navigating and testing new waters in music boundaries (as far as the creation of new genres and sound). I would have to say that Brian has accomplished this role with his stunning vocals and has actually inspired me to purchase his whole album 'Broken Hearts' on iTunes simply by listening to this one song. I don't make predictions like this often, but, I am confident that these artists will exceed the industry expectations and go very far in their music careers.
The Bongo Boy Rock n' Roll TV Show is produced by Gar Francis and Monique Grimme and is fully funded by DIY sponsorships from all the indie musicians and their affiliations in each episode and Bongo Boy Records. Bongo Boy TV produces and distributes the Bongo Boy Rock n' Roll TV Show which spotlights indie music videos from around the world in the USA, The UK and Canada. Each episode broadcast on television on cable networks such as: NBC Universal Comcast, Cablevision, Time Warner Cable, Verizon/FiOS, RNC, Charter Communications, AT&T and Suddenlink at prime time. The show can also be seen Go Indie TV Roku Channel. Bongo Boy TV offers 2 broadcast regions which an artist can place their music video for heavy rotation and promotions which includes press releases, reviews and social media promotions. If you like to DIY sponsor your music video email submit@bongoboytv.com Subject: Skope Mag Summer 2015.
For more info go to: www.bongoboytv.com