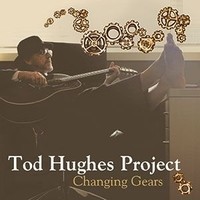 Tod Hughes' website describes his music as real songs coming from the heart and full of the joy, wonderment, excitement, and disappointments we experience in our lives. These aren't modest aims and are often misunderstood. Real songs coming from the heart means rendering life as it is rather than as we'd like it. The songs on his debut EP Changin' Gears represent an attempt to distill life down to its essence, capturing experiences in song capable of simultaneously moving and entertaining his audience, but life is messier and refuses to yield. The drama of our lives is outsized and Hughes hems himself onto a canvas too small to fit such moments and thoughts. While one might say with some justice that life is full of clichés, their abundance on the EP weakens an otherwise memorable debut.
"Let's Dance" strives for simplicity and ends up sounding canned. The players certainly hit their marks and anyone starved for the sharp twang of traditional country music guitar will enjoy the track. Hughes' earnest vocal isn't an entirely comfortable fit for the lyric. He doesn't emote so much as inflect and there's rigidity in his voice sharply contrasting with the song's tone. The lyric is coherent but marred by an assortment of clichés. "Follow Your Heart" has a jaunty bounce, but we're trafficking heavy in clichés again. Hughes, however, redeems much of the damage with a much more compelling vocal that uses his singing limitations in a way that personalizes the familiar.
"Brad's Song" brings listeners a moment when Hughes pushes past his influences, avowed or otherwise, and creates something truly his own. The urgent music and nagging vocal complement each other and dovetail into an unified whole – this is inventive lyric writing framed with sure musical hands. Hughes gives us a decent John Prine impression with his vocal on "Just Sing", but any similarities can't undermine the fine job of writing he turns in on this track. While it admittedly takes a turn through some stock celebratory images about expressing yourself, the chiseled language and precise diction are impressive.
Changin' Gears takes a surprising turn with "The Quiet". This keyboard laced and even funked up mid-tempo burn has a distinctly darker air than its predecessors do and Hughes gives it a sneering vocal. The final song, "The Only Person Who Won't Drink with Me Is You", saves Hughes' best shot for last. Much like "Brad's Song", the song blasts beyond its formulaic backing and impresses itself on listeners as something uniquely Tod Hughes. The darkness in the song goes far beyond anything else heard on the album, but Hughes tempers it with a great comedic deadpan vocal.
Changin' Gears has two moments of pure inspiration surrounded by tracks with varying success. The release has uneven quality, but never so lopsided that it's a chore listening to it. The aforementioned moments of inspiration aren't enough to make the release essential, but they certainly serve notice of Tod Hughes' songwriting skills.
3.5/5 Stars
Purchase Link: https://itunes.apple.com/us/artist/tod-hughes-project/id925754033
FACEBOOK: https://www.facebook.com/todhughesproject
Jason Hillenburg