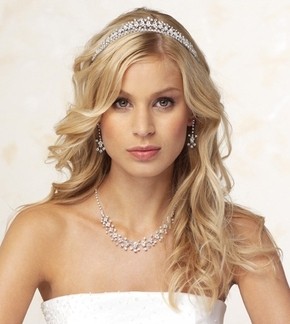 When it comes to dressing up for your wedding day, everything needs to be meticulously planned to ensure that you look your best on the most special day of your life. From selecting the most chic wedding dress to glamour tungsten jewelry, everything needs to be perfect to complement the big day. Selecting the right tiara to go with your wedding dress and jewellery may seem like a daunting task, however, it is much simpler than you might think. Before you jump the gun, there are several factors that you need to consider that will ensure that the tiara you choose will flawlessly harmonize the rest of your ensemble.
1.) Buy your wedding gown first:
This is the most primary tip that will help you buy just the right tiara. It goes without saying that you need to first buy your wedding gown and then look for the perfect tiara instead of going the other way around. You will always find a tiara to go with your dress but you may not necessarily find a dress that may match your tiara. This can cost you a lot more than you had anticipated. Besides, these should not be the reason to dampen your spirits.
2.) Understanding the style of your wedding dress:
Your tiara must mirror the style of your wedding dress. If you decide to wear a vintage gown with intricate antique details, you must opt for a tiara that has an antique feel to it. On the other hand, if your wedding dress emanates a contemporary feel, your tiara must match the modernity of the dress. Also you can go through tungsten ring guides.
The design and pattern on your wedding dress should be reflected in the tiara as well. Buy a tiara with crystals or diamonds if the detailing on your wedding dress contains these type of stones. If your dress is laced with pearls, the tiara must be detailed with pearls as well. Some women prefer floral patterns for their dress. In such a situation, the tiara must have floral designs to complement the wedding dress.
3.) Deciding the tiara based on the features of your hair:
You may find it trivial but it is crucial that you consider the length and colour of your hair when deciding on a tiara. Selecting the right tiara based on these features of your hair can make an immense difference. If you have long hair, you must opt for larger tiaras like the bun crown or those with a high peak. Women with shorter hair must opt for headband or comb tiaras. Besides, those with blonde or black hair can opt for white or silver tiaras lined with crystals or diamonds. Brunettes and those with red hair can opt for tiaras that have a golden edge to them along with ivory pearls.
4.) Selecting the tiara based on the shape of your face:
Just as you choose Glamour Jewelry, you must also select the right tiara based on the shape of your face. This is very important and can elevate our style to an all new level. The most basic rule to keep in mind is that if you have a round face, you must select a tiara with a peak so that it gives you the much needed height instead of excessive roundness. Conversely, if you have a long face, you must balance it with a round tiara where the detailing works all round the tiara to lend some roundness. Also you can check latest examiner.com's story on tungsten rings.
Following these tips should help you buy just the right tiara to match perfectly with your wedding dress.
Author's bio:
Patricia Whitman is a fashion enthusiast and a lover of glamour tungsten jewelry. She is a freelance writer and a successful fashion blogger. She plans to write an e-book based solely on fashion. She loves eating raw food and encourages people to adopt a healthy lifestyle through her blog.