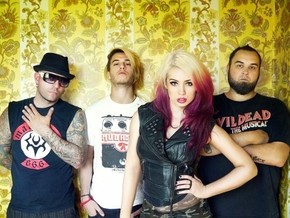 Toronto rockers Sumo Cyco, winners of the The John Lennon Songwriting Contest's Vans Warped Tour Prize, will be performing on the tour from June 19-28.
The four-piece uses hard rock guitar riffs with in your face blast beats and dance hall rhythms, topped by electric female vocals. Their latest full-length debut album 'Lost in Cyco City' was produced by Matt Drake (Dodger, illScarlett) and should see a U.S. release later this year.
The band's latest single "Fighter" is available now on iTunes and the music video has just been released here.