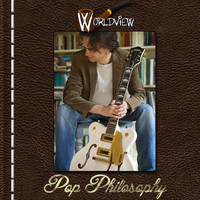 Pop music could learn a thing or two from Worldview's "Pop Philosophy". An album that feels full-bodied Worldview is remarkably catchy with hooks that sink themselves deep into the mind. Due to the wide variety of different sounds Worldview incorporates (often within the same song) Worldview's sound approximates Beck's early eclectic and vibrant work. With this knack for collage Worldview mixes together everything to create colorful songs, with lyrics that further emphasize this penchant for the otherworldly.
Audio:
http://worldview.bandcamp.com/album/pop-philosophy
Opening up with the bombast of "Defiance" Worldview starts things off on a high note. Volume is a must as the guitars are meant to be heard loud. The song's groove has an anarchic feel to it as elements of synth-pop and folk filter into the mix. Easily one of the highlights of the album Worldview displays a clear sense of purpose. Efficient rhythms define the playful "Looking Into It". For "Bad Faith" there's a flexibility that is able to merge together a configuration of folk and trip-hop. Elegant in execution it is a particularly emotionally compelling piece, with the occasional flourishes giving glimpses of a more idyllic world. A surreal sadness defines "The Malady" whose delivery feels particularly heartfelt. Happier territory is explored on the aptly named "Wonder" with a celebratory sound. Bringing the album to its logical conclusion is the light and airy "The Long Run".
"Pop Philosophy" takes the basics of pop music, the hooks, the delivery, the thoughtfulness, and perfects them.
https://www.facebook.com/pages/Oliver-ShawWorldview/249722267678
Posted by Beach Sloth