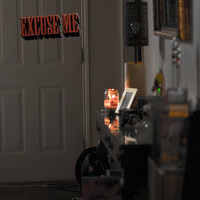 Joe Blessett's "Excuse Me" is a raw mixture of jazz, hip-hop and RnB as imagined by David Lynch. Employing a noir sensibility to the proceedings Joe Blessett's work lives in an uneasy haze. Sounds churn, jazz samples are abundant throughout the songs, and well-crafted grooves anchor the pieces in place. Sprinkled above this immaculate work in Joe Blessett's vocals which display articulate ruminations about the world.
Listen to the full album at Bandcamp: http://joeblessett.bandcamp.com/
A nightmarish tone prevails on the slinky "Who's in My Shit". With a deep bass line keeping the song in focus the piece flirts with near collapse. Joe Blessett twists and turns with the song, as the vocals are heavily manipulated. Optimism flows out of "That's the Way U Living" with an excess amount of energy. More minimal in nature, almost a throwback to an early 80s jazz fusion sound (complete with saxophone) is the playful jam of "Taking It Down". By far the album's highlight is the infectious work of "Paying Bills". Deeply funky the song is perfect with the right amount of attention paid to each element from the taut bass guitar to the steady percussion. Opting for more electronic textures is the ambient-influenced work of "Kali". "I Say Eat Him" goes for a nimble approach as a ridiculous sample is looped throughout the piece displaying a warped sense of humor. Stripped down to the essentials is the reflective work of "Good to My Girl". Ending things off on a dramatic note is the paranoia of "Athene's Theory".
"Excuse Me" is a serious trip of an album and one well worth taking.
Posted by Beach Sloth