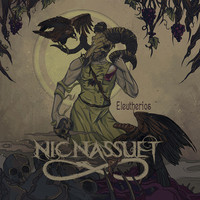 Nic Nassuet's "Eleutherios" is a passionate performance. Folk with fire, these songs are short and sweet pieces of work. Everything remains economical. The elements are used to maximum effect as Nic Nassuet dives deep into a sense of honesty, the sort of thing possible through folk and punk. Indeed certain elements of it are reminiscent of a distant relative of punk as the songs are stripped down, kept minimal, and oftentimes full of anger. Hard edges weave their way into the pieces as the lyrical content is quite bleak at times and the atmosphere reflects this as well.
Stream the full album privately:
https://nicnassuet.bandcamp.com/album/eleutherios-2
Voices comes out from the echoing space on "Cross and Crown" as the piece gains greater and greater clarity. "Down" continues down this path letting the ethereal sound work its magic. The rhythm is ramshackle the strings perfectly attuned to the overall sense of defiance imbued within the song. For "Immured" Nic Nassuet explores the quieter impulses of his work as the music takes a darker tone. Fiery in spirit is "When It Falls". By far the highlight of the album is the shadowy tasteful work of "The Giver". The right mixture of mysterious and austere the piece is quite memorable. Coming out of this is the optimism of "Goodnight, Goodbye". Bringing things to a close is the reflective sprawling journey of "She Rides Moonlight".
"Eleutherios" is a timeless album. Nic Nassuet's is a unique one with the ability to offer respect to the past while offering a shining vision of the future of sound.
http://www.facebook.com/nassuet
Posted by Beach Sloth