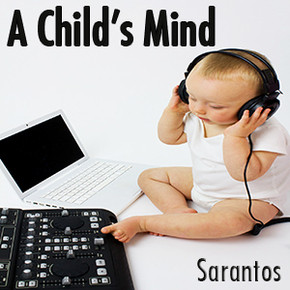 Sarantos releases his best reviewed pop melody to date called "A Child's Mind" which is a Potent Song About How Innocent and Creative A Child's Mind Can Truly Be.
Most people remember their childhood fondly. It is a simple time in one's life when there are no limits. Imagine and remember a time when the days were care-free. The nights were full of stars and mystery. One's imagination ran wild at the slightest provocation. Childhood is a time usually spent growing up while learning within the comfort of one's family. However, not everyone has that chance. Some children grow up in abusive environments. Some children grow up without enough food and are often hungry or malnourished. That is an injustice.
"A Child's Mind"
https://www.youtube.com/watch?v=JDM_MEhpKYA
The truth can set you free but it can also make the real world a cold and bitter place. For some, childhood memories are forgotten as one moves on to the adult world where creativity is not fostered. Uniqueness is not always encouraged or nourished. Conformity is the goal. It is not uncommon to live many adult years and then come to the realization that one feels lost and not as comfortable as one was during the childhood years. Growing up is common but there should never be a sacrifice of that part of one's mind that wants to be a child. There is a part of our minds that need to be a child. A child's mind is innocent, bursts with potential and is full of limitless possibilities. Sarantos feels that we should retain a part of our child's mind until the day we die. It is necessary to help us get thru each and every day as well as complete our journey on this simple planet. Yes, humans mature and age but elements of a child's mind should be retained.
"This music is a slow pop melody about how innocent and pure a child's mind truly is," says Sarantos. "He remembers being a child and misses feeling a bit wild…I think we've all at some point missed being a child to a certain degree. Only once upon a time were we truly young and free. However, I don't personally believe children should ever be hungry or malnourished and it is such a shame that this still happens in our world today. With how far we have come as a species in such a short time, it's just not right for a child to be hungry and not enjoy his childhood. It just breaks my heart!"
33% of any music-related sales profits from this song are going straight to Feed My Starving Children.
Feed My Starving Children is a non-profit organization committed to feeding God's children hungry in body and spirit. The approach is simple: children and adults hand-pack meals specifically formulated for malnourished children, and they ship these meals to nearly 70 countries around the world. Sarantos even participated in one of these packing sessions on a cold Chicago night last month!
Sarantos' music has received rave reviews, and he relishes this chance to pursue his life long dream. Sarantos' unique sound has been best described by industry insiders as "an emotionally powerful vocal style masterfully united with music that is a fusion of classic 80s rock blended with modern soft rock and pop music."