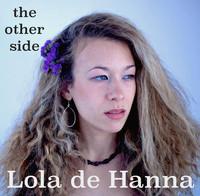 Independent music-scene…you will forever astonish me with the sounds you put out of my speakers. I'll fully admit to instantly being hooked on Lola de Hanna's style & beat immediately as the opening song "Thin Air" burst brightly with exotic sounds and beautiful textures as The Other Side EP began to make its way slickly through my playlist.
As hooked as I was; there were so many times in the first listen-through Lola's EP where she went left when I'd assume that she'd go right, that at times it left me scratching my head and raising my eyebrows questioning the direction of sounds coming at me. And though it would happen many times over as I tuned my ear to her incredible ideas, it didn't take more than halfway through "Thin Air" to realize what a REAL artist I was listening to here. The kind where, yeah, you could offer input as to which direction to take her music…if you wanted to homogenize her into something else that's already being done.
Listen to "The Other Side" EP at Soundcloud:
https://soundcloud.com/loladehannamusic/sets/lola-de-hanna-the-other-side-ep
Watch the music video for "A Knack For These…" at Youtube:
https://www.youtube.com/watch?v=DFfBqBddNnw
No way. There's no reason to question this song-writer's instincts, and thankfully she's clearly not let that happen for a moment. There is so much triumph here in these six songs it will leave you breathless…each one of these make for a completely captivating listen; some of the songs are big, and others small – but they all contain an intimacy and prevalent emotion that can't be ignored.
With "Thin Air" she starts out with an Alanis Morissette twisted tone, bending eastern-influences into her style and sound. As the beat kicks in, her dreamlike vocals and the guitars coming together remind me of some of the best moments in Massive Attack…and as she explodes around a minute-twenty in, she takes hold of the music and makes everything all her own. Genius stuff here in this opening cut. Like Alanis, some of those notes and tones stop just short of being somewhat nasal in sound, and as long as she's careful on that aspect, these beautiful vocals of Lola's will continue to shine as brightly as her confidence.
At least I'm assuming she's confident…she SHOULD be…this is an incredible set of six songs…
I'll put it to you the best way I can; I FEEL like I could have reviewed this EP in a much shorter time frame than I have been…I'll fully admit – hooked on Lola and I've been wanting to spin this as much as I can. The range of different tones and styles she borrows from in just the right amounts without becoming a copy; it's all becomes a wonderful combination of versatility and adaptability displayed by this extremely promising new talent.
Take the second track, "Knack," for example…Lola pulses through multiple personalities on this song, sounding comparable to acts & artists like Little Dragon, or maybe even Faded Paper Figures. It's highly danceable, has an excellent groove to it; the breakdown is completely awesome. As it heads into the chorus, those of you that know Faded Paper Figures will hear the comparison for sure to their songs with female vocals…it's that pure, sweet match for electro that works so damn well. With rhythm and pulse – there's no doubt that Lola knows about song-writing; she writes absolutely killer hooks and delivers them with style, grace and confidence every single time.
And IF not every time, then 99% of the time…perhaps the very opening verse of "Wings" might need a slight retouching on the performance as those low notes try to get the better of her a little, but the song itself is certainly another winner. A big chorus anthem, excellent vocal samples like conversation drift in and out of this song as it weaves through a fabulous breakdown with strings right before she bounces back brighter raising up the vocalizations into the stars as "Wings" fade out.
Love the percussive elements and the vocals in "I Will Follow." This song is BIG. I mean that ALMOST in the like, American-Idol-sense kinda big; a direction I'm sometimes convinced she would want to go in, or maybe should. But LISTEN to the comeback into the second part of the chorus…there is a SLICK vocalist at work here, full of great timing, melody and surprises. This one's definitely a production for sure from its subtle beginning to its massive expansion…but again, another potential hit on her hands here for sure.
As a child of the post-punk era – I can't help but immediately fall in love with "Oh So Gray." With melancholy lyrics, this bass-led groove works really well for Lola and also points to what a real student of the Lilith Fair era she is herself; the comparison to Sarah McLachlan here is an undeniable one as she reaches soaring angelic notes. In many ways I can see this being the more troublesome spot on the EP for some…it's got gray in the title for a reason…but man, I dunno…can ANYONE deny that bass-hook in the verse? Cause I, people…music-fans…dear readers…, cannot.
With the most emotional and stripped-down music on the EP, Lola de Hanna closes with "Ghosts." I'm not saying it's the MOST beautiful song I've ever heard…but maybe? Honestly – this is as beautiful as music can get. The added piano and higher end of her vocals give it a somewhat Kreviazuk-esque feel to the rhythm and flow, but Lola manages to transcend any influence into her own beautiful ideas, instincts and writing every time. The chorus for "Ghosts," is lyrically-inspiring, hopeful…and with her immaculate, highly-memorable performance leaving you with the breathtaking impact this future superstar deserves…there's no doubt in my mind that you'll be looking for more music from Lola de Hanna as quickly as she can release it.
Excellent work here on The Other Side EP…I don't know which side that IS for Lola…but I'm on it.
Find out more about her at Facebook: https://www.facebook.com/loladehanna
Jer@SBS – http://sleepingbagstudios.ca/