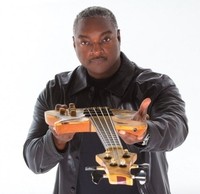 Funk never seems to give it up. Since its early roots in the 60's, whether it's jazz-funk, G-funk, funk metal, or the more recent genre-bending To Pimp a Butterfly, funk always finds some way to fuse with whatever musical trend is dominant at the time. This usually works out for the better, since funk's accessible, energetic style lends itself well to crossover.
Los Angeles' Mitchell Coleman Jr. keeps the spirit of funk alive in his debut as a solo artist, Soul Searching. Coleman Jr brings along some pretty important veteran features, including Deron Johnson (formerly with Miles Davis) and Motown producer Michael B. Sutton, among others. Soul Searching's whole raison d'etre is, as one would expect from the title, to produce music from Coleman Jr's soul. From a less metaphysical standpoint, it's a tribute to the music Mitchell Coleman Jr. knows and loves. But it leans much farther towards funk than traditional soul music. You'll immediately notice Soul Searching pays tribute to funk's maximalist sensibilities by including multiple complex layers of instrumentation. It opens with a short skit (which is actually pretty entertaining) and then the blaring synth and horns take over on Flow. Overload, perhaps the best track on the album, emulates the spirit of Parliament-Funkadelic to great success. Just One More Hit You starts rather innocuous but it features a stellar guitar solo toward the middle. You can almost smell the cologne and smoke when listening to tracks like Genesis, which will make you feel nostalgic for times you've never lived in. Déjà Vu has an incredible pep to it unparalleled by anything you hear on the radio today. As a throwback to Coleman Jr's heroes such as Miles Davis, Marcus Miller, and Larry Graham, Soul Searching can feel a bit formulaic at times, but hardly ever dull. Besides, most tracks have something to separate itself from the rest, be it the killer bassline on Passport or the considerably slow pacing and lyrics of When Your Life Was Low. Soul Searching is an enjoyable, well-polished album that features a great deal of talent. Its main flaw is its length (57 minutes), which is a little overbearing for such energetic music.
However, instantly accessible funk grooves will keep you entertained along the way. Mitchell Coleman Jr has proven his musical chops and shown with this debut that he's much more than just a sideman. Even if you aren't an enthusiast of funk music, you might just find something you like.
FACEBOOK: https://www.facebook.com/Mitchellcolemanjrofficialfanpage
URL: http://mitchellcolemanjr.com/
Jonathan Pitts