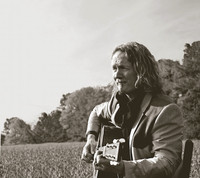 Jim Pelz's "Loser Angels" are pure manna from Heaven. Right from the first track the sound is so rich and dense. With these songs Jim Pelz sings the songs of the marginalized of the world. Throughout the album Jim Pelz's voice and thoughtful lyrics take center stage. His band is phenomenally talented as well as they are able to add a wide a variety of textures into the mix.
"Faded" starts the album off on the right foot. The song's instrumentally mellow vibe contrasts starkly with the dark narrative described by the lyrics. Dreamier in tone is "I Can't Hold On" where the whole band displays its considerable chops. For "Homecoming" Jim Pelz and his band explore a late-night atmosphere replete with horns and a dusty organ. By far the highlight of the collection is the title track "Loser Angels". With this piece Jim Pelz shows off the band's natural knack for the slow burn. Stripping things down is the understated beauty of "Gone Again" as Jim Pelz takes his time reveling in the simple wonders of the quieter sound. Even the buildup is rather restrained. Reflective in nature is the somber tones of "Sand In The Machine". Towards the end of the album comes yet another highlight the down and out sound of "Soul of a Song".
Such soulful lyrics "Loser Angels" is the celebration of the underdog. These are songs dedicated to the downtrodden, the down and out, and they are damn impressive.
https://www.facebook.com/pages/Jim-Pelz/790151544356526
http://jimpelz.com/
Posted by Beach Sloth