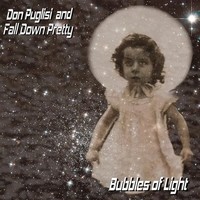 Some good indie-rock put forth here from Don Puglisi. Clearly a seasoned musician that's got experience and a rich understanding of how to create captivating tapestries of rock that transform themselves and expand into beautiful melodies, solos and overall performances.
In those very first opening moments of "Ricochet Girl" you can hear already that this particular music adventure might just head off into any direction. Leading in with the pre-chorus, it sounds like it could possibly head towards The Flaming Lips before it breaks away to something much more straight ahead that everyone can enjoy. Puglisi comes out with a great pop energy, excellent words and a real classic vibe accompanying a song that overall encompasses an unmistakable magical moment in music. I mean, this is just an excellent song – that's not really up for debate is it? With beautiful melodies, harmonies & vocals, perfectly placed chords and guitar-work with great tones, energetic beat, awesome solo…honestly, I could keep this list going for an entire page. I'll be honest – there's a large comparison to Tom Petty you can draw in from this first track, but that certainly speaks to Puglisi's ability to write a great song with excellent storytelling; I don't always reach for Petty myself, but so far as I can hear I might be just as apt to reach for Don's music now as I would his after listening to "Ricochet Girl."
That TP-vibe quickly subsides into a snare-drum laced beat that almost sounds like something Lenny Kravitz might have experimented with at one point during a….uhhhh….'session' let's say, on the EP's titular-track "Bubbles Of Light." Definitely drawing on the psychedelic aspect of his writing and style – Puglisi pulls off an ambitious track here; it's radically different than the opening tune but manages to bring you in through a hypnotic verse and music that rolls around dynamically from the lefts to rights. Just after a minute-twenty, the snare-beat picks itself up while Puglisi drifts hazily along through the vocals creating an awesome contrast between the energy in the song. Much like The Black Keys on "Bubbles Of Light," Puglisi works within a tight but simplified framework and pulls out every square inch of sound at 100% of its potential. Excellent guitars just before the three minute mark that would inspire The Black Keys to get in their limousines and just head home rather than step foot back out onstage.
https://itunes.apple.com/us/album/bubbles-of-light-ep/id974125704
Besides, I'm not here to attack The Black Keys for the ONE sound they make anyhow; but I will certainly say I'm relieved to know that Puglisi hasn't presented himself in such a one-note style. Clearly he can light it up in several directions and achieve some excellent results; following cut "Summer Ends" takes Puglisi all over the musical-map. With sounds and tones of Tom Petty through the verse, perhaps maybe even James Iha or the lighter moments of The Smashing Pumpkins through the harmonies…but then Puglisi takes it all in a fantastic direction much more similar to the innovative pop/rock of The Verve Pipe. Big fan of this tune…I can hear that for many this song would be a tougher one to love in the sense that there are about three major parts & hooks working within this one five-minute time frame. Ha! You hearing this The Black Keys? I mean I'm just saying…
But for sure, some of those parts are going to stand out to you and resonate with you more than others will, no different than song to song on any given album or EP, but just contained within one track. With a musician's ear, you'll appreciate the assembly; that's a heck of a lot going on for a pop/rock tune – but for the average listener "Summer Ends" might be the toughest sell of the four on Bubbles Of Light.
"Goodbye New York (Remix)" is a much more isolated and alone indie-rock tune. Relying on vocals, guitar and a subtle beat…it's taken me multiple listens to finally figure out who Puglisi has reminded me of all along this EP…and that elusive name belongs to Matthew Sweet. Something about the energy, pulse and movements of these two singer/song-writers really seems comparable to me and my two ears…this last track most significantly. There were times when Sweet would ring out slightly imperfectly overtop of the music, but with a passion that echoed his relentless determination to make music and genuine love of his craft – and I think in this final cut you can glean the same feeling from Puglisi. It's a slow-grinding, emotionally performed tune and he's put in a maximum effort in closing Bubbles Of Light on the strongest of notes – great tune, memorable impact.
AND…if you're lucky…you'll immediately hear "Ricochet Girl" start up again – cause of course you've got all your settings ready to repeat right? Hopefully so; mine are – and every time that "Goodbye New York (Remix)" has ended, I've gone right back into the beginning and become more heavily hooked on Don's fantastic sound. The bookends of this album are completely awesome – the middle's great too, you've already read my thoughts…but with the opener and closer being as strong as they are on this EP…it just makes it all too easy to take it for another spin the moment it ends.
Have a listen for yourself at Soundcloud here: https://soundcloud.com/don-puglisi-1/sets/bubbles-of-light-ep
https://twitter.com/donpuglisi
http://www.reverbnation.com/donpuglisimusic
Jer@SBS – http://sleepingbagstudios.ca/