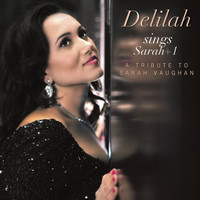 The 'Sarah' in the title refers to famous jazz singer Sarah Vaughan from the 1940's-ish era, and also points to solo-artist Delilah's pure love for her music & sound. With this EP, Delilah Sings Sarah + 1 cover of another renowned artist, Nat King Cole, in a set of four songs that display a real fondness for a defined style of music that translates audibly to a set of listening ears.
Starting with "September In The Rain" you get a smooth jazz sound…horns, piano, string-like atmosphere in the background. Delilah has a sweet toned voice for sure…she hits these notes with the right sound every time on this opening track and throughout the rest of the EP – no issues there. Love the spot about a minute and a half in where she lights up the mic and gets into the improv; great instincts here and it all works really well when she cuts herself truly loose like this.
Streaming links: https://soundcloud.com/beautiful_delilah
"Just Friends" is a beautiful, melancholy song and Delilah does a lot of justice here to Vaughan's previous recording. The lyrics to this song are so simple, haunting and effective and Delilah gets the maximum atmosphere and feeling on this track…you can hear that in the tone. It cruises slowly and nearly eerily in part from the isolated tone in the lyrics and with Delilah's version here proves that great song-writing translates easily through & transcends time.
I like the dramatic aspect of the way she chose to sing "Whatever Lola Wants," it's like Delilah took on a full new life here in this third cut. It's more theatrical in style…but more importantly, she's got the confidence to go after it. Great music to go along with this song; it also really highlights the quality of the musicians she's working with…fantastic effort here all-around as the drums, piano, horns & the rest all come together for a great time & a great performance. I don't know how to put my finger on it exactly, but there's something extraordinarily FUN about this particular song; I think I just love the way that Delilah performs this one with an extra 10% confidence and really makes the most out of this cover.
As much as I've enjoyed her singing Sarah Vaughan's work…I'm not sure if I enjoyed anything as much as the final tune; a cover of Nat King Cole's "Smile." In a fantastically dreamlike ending that pulls in atmosphere from all the instruments combined in a smoky-jazz-lounge feel, this song is a great way for Delilah to have left us all with the impact she can make through her voice & music in one last great display of control, tone and clarity.
Delilah clearly sings with true passion and you can hear that all throughout Sings Sarah + 1. There are times where it feels like she slightly dips a little in the confidence of her approach, but any of these instances are minimal at best and last mere seconds before she finds the strength of her tone and takes charge of these songs once again. Nearly flawless in her delivery in her commitment, style and delivery, Delilah has put together a solid effort here on Sarah Sings + 1 and displays a truly warm & inviting sound that strongly encourages your ears to listen closely to these intimate & beautiful performances.
Find out more from this beautiful artist at Delilah's official page: http://delilahmusic.com/
Jer@SBS – http://sleepingbagstudios.ca