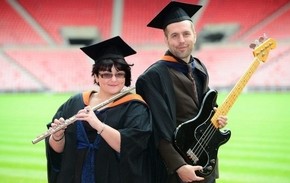 Music is more than a hobby—for many it is a passion. They live, breathe, and feel music throughout their everyday existence. When it comes time to choose a college major, it seems only natural to pursue a degree in music. However, choosing to study music can be scary for both the student and their loved ones. Music has traditionally gotten a bad rap as a career in which it is difficult to find a job and to earn a living, but there are plenty of degrees to pursue that won't limit you to performing at kids' birthday parties until you make it big, though that's always still an option.
Here are four music degrees to consider.
1. Music Therapy
Music therapists work alongside health professionals to help patients overcome physical or mental health issues. The idea is that music is a healing tool. They can either teach people to play an instrument or sing or they provide the tools for listening to music to aid in recovery. Music Therapy majors take courses in musical performance and theory as well as therapy techniques and research methods.
2. Music Education
Music is your passion, and your life's work. What could be better than sharing that passion with others? Music Education majors take a wide variety of musical theory and performance classes as well as classes in how to teach music. In the final semester of college, Music Education majors participate in an internship where they actually get to teach music students. Teaching music will ensure it stays part of your life forever. And for those with a busy schedule, you can even find an online Master's in Music Education.
3. Music Business
Let's face it. Not everyone who loves music or even is a talented musician will be able to make a living with their passion. Music Business will give you the tools to make your passion into a career. This degree will cover classes in managing musicians, entrepreneurship in the music world, and laws pertaining to the music business. This is a perfect degree for someone who loves music, but wants a more corporate career.
4. Music Composition
Dreaming of being the next Andrew Lloyd Webber? With a degree in Music Composition, you'll be on your way. While Music Composition majors do spend time in performance classes during their education careers, the majority of their coursework will involve music theory and historical context. Composers can also find jobs in the media industry making film scores and writing for professional performers.
A degree in music can really help you succeed. All of these degree options will allow you to hone your skills as a performer while still studying something that will give you another career as well. You'll feel more comfortable knowing all the things you can do with your degree.