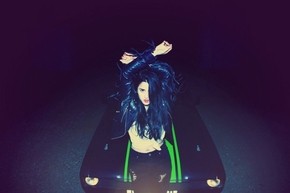 Brighton based Salt Ashes is the moniker of 24 year old Veiga Sanchez, and today she is sharing her new pulsating new single 'Raided'.
A lover of Moroder style disco and spooky atmospheres, her music is the sound of Kate Bush dancing in a haunted Studio 54.
Dark electronic pulsing beats with hairs on the back of the neck vocals, Veiga has spent the last few months writing and recording with electronic artists such as Applebottom (Black Butter Records) My Digital Enemy (Zulu Records) and putting her time into new single 'Raided' which takes a darker and more contemporary twist to its beats and sound.