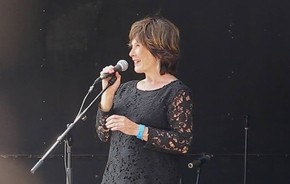 Hello there to all my music addicted people out there, it is awesome to see you today! Some good news at WMG as Warner Music Group Corp. announced its first-quarter results for the period ended December 31, 2014. Revenue grew 1.7% (or 6.6% in constant currency), driven by strong holiday sales. On a constant-currency basis, physical revenue grew in Recorded Music and digital revenue grew in Recorded Music and Music Publishing. "Some strong new releases, as well as outstanding execution by our operators around the world during the holiday season, made for an excellent start to our fiscal year," said Stephen Cooper, Warner Music Group's CEO. In other news I am instrigued by – https://pizicato.com. Digital donation platform, PIZICATO, launched and is transforming the way fans can support their favorite musicians. This technology allows the fans to have a direct impact on how an artist is compensated, effectively plucking their own strings, disrupting the status quo and changing the model of the current music industry. That is so cool and innovative! So this next interview was drawn up months ago and then Deborah Henriksson disappeared. Well this incredibly talented and garcious musician has returned and I could not be happier. Join us as Deborah Henriksson speaks on a typical day in Sweden, family and friends support, her new album 'Traces,' and so much more!
Stoli: Where are we talking from today and are you enjoying the colder temps and shorter days?
Hi there! I am in snowy Sweden at the moment. Not as cold or as much snow as usual but definitely winter and definitely shorter days! Although we have fully one more hour of daylight now than we did one month ago at Christmas!
Stoli: When you wake up in the morning at what point do you put on or play music?
Ha ha, that depends ;-) When I am teaching I am up at 6 am… music in the car on the way to work, otherwise for breakfast…
Stoli: You have been making music for much of your life. At what point did you realize that you had a passion & drive for music more than just a hobby?
Music has ALWAYS been my passion, ever since I can remember … more than a hobby? When I realized it was taking over more and more of my life ;-) no seriously, I have been doing it parallel to teaching for years and years. One thing is for sure, singing makes me feel good physically no matter what else is going on in my life and it is always fulfilling. It is something I have a driving need to do in order to feel that I am doing what I need to be doing in this life.
"Calling"
https://www.youtube.com/watch?v=2zDOmwN46x0
Stoli: How have your family and friends supported your musical ambition and have any been cruel about it?
I have not received a lot of support generally speaking. But some people – and more and more of them these days – have been wonderful.
Stoli: Give us some insight into how you create music from the instrumentals to the songwriting process?
I work very closely with my producer and fellow songwriter, Mats. He usually has musical ideas which lead me to associate to and then I find what I want to say with that melody/background. Particularly important is to find just the right word /vowel sounds to go with the melody and stronger rhythms. All parts of a song need to be organically part of eachother.
Stoli: Your 4th album is out now, 'Traces.' How has the response been so far and what are you most proud of with this collection of music?
"Traces" has been getting wonderful reviews from many different places – Sweden, Germany, the UK, the Netherlands, and the U.S. Songs are being played on many radio stations – internet and terrestrial, also in many countries.
Stoli: What can new & old fans expect from this album compared to the prior 3 albums?
Fans can expect to come closer to Deborah Henriksson!
Stoli: You made a video for "Trains" – http://youtu.be/SE-Oa18jFbc. How did you choose that single and what does this beautiful song mean to you?
Oh I am glad you think it is beautiful. I chose "Trains" first because it is perhaps the most accessible of the songs on "Traces" and because it is definitely a feel-good song.
Stoli: You are based in Sweden. When I come visit you, where can we go to see some live music and have some cocktails?
GREAT, I suggest "snapps" with the first course … (but no drinking and driving in Sweden) There are live music venues in most towns in Sweden and just like in the U.S. there are concert halls that schedule music.
Stoli: How does music enhance your life personally & spiritually like nothing else can?
Music – whatever genre – is a companion on my life's journey. Particularly in times of trouble it has been of unspeakable comfort. And now as I find my own voice in terms of writing lyrics it has brought my art form closer to me, so that I can express myself more than ever before. It is a whole new ball game to sing your own lyrics rather than someone else's.
Stoli: What is coming up for Deborah Henriksson and where are you & the album @ online?
I am looking forward to more live performances in Sweden but also in other parts of Europe, having just returned from singing in the U.S. in Oregon at the Florence Winter Folk Festival. I am in the process of writing new songs for another album coming up in 2015. You can find "TRACES" on such places as itunes, https://itunes.apple.com/us/album/traces-album/id886917544, amazon, googleplay, deezer, wimp, and Spotify: https://open.spotify.com/artist/5BMLVG2KWBWx129lrUQphM.