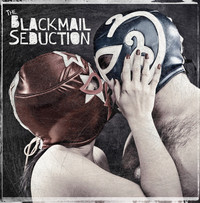 The Blackmail Seduction is rock done right. Blasting forth with energy it recalls the best elements of classic rock. Kept to the absolute basics (no synthesizer, no walls of sound) these are songs that feel remarkably familiar. Pleasant in their demeanor the songs oftentimes stretch out forming rather intricate rhythms. Vocals are earnest. Lyrically the songs are made of hopes and dreams, where their life is and where the life ought to be. A slight Western twang can be felt throughout the album as the spacious songs offer a sense of introspection.
Audio: https://theblackmailseduction.bandcamp.com/album/the-blackmail-seduction
"You've Got to Hide Your Love Away" begins with understated percussion. From the quiet acoustic guitar the song gradually builds itself up into a gallant swinging song. On "I'll Be Right Here" features a prominent driving rhythm. The singing helps add to this sense of urgency. Volume defines the loud boisterous rush of "California Jackpot". Taking the energy down considerably is the reflective calm of "Hold You Down". Here they show off their restraint letting the song slowly build itself up. By far the highlight of the album is the insistent "Are You With Me". Full of energy the song burns through its short duration. Continuing with this positive hopeful feeling is the rush of "Friends". Ending the album off on an epic note is the sprawling work of "War At Home".
With a great sense of clarity The Blackmail Seduction carry forth the grand spirit of the best of classic rock.
https://www.facebook.com/TheBlackmailSeduction
http://www.reverbnation.com/theblackmailseduction
Posted by Beach Sloth – http://beachsloth.blogspot.com