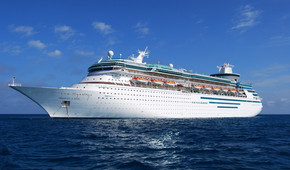 Sometimes it can be difficult to dig up opportunities to showcase music talent, regardless of genre. There are local bars, clubs, coffee shops, and special events, but these can get booked up fast for space, and it can be extremely difficult to find anything consistent. But, there is another option for musicians willing to expand their repertoire – cruise ships! By signing on with the right opportunity, you and your band can potentially get a consistent, highly-controlled gig with an audience predisposed to entertainment and, literally captive. Set your mind free with some of the possibilities.
Think of the Different Types of Cruises
Vacation and holiday cruises will be some of the first to come to mind. Now, imagine what brochures say for these tickets. "Great entertainment from '60's glam-rock cover bands," "smooth jazz played live in the on board restaurant," or "dance to your favorite big band tunes." Entertainment, and musical entertainment specifically, is always going to be highlighted on these cruises, and you can expect the highest quality of equipment and engineering staff on hand, because people are paying a lot of money, and expect near perfection when it comes to presentation.
But there are smaller, functional cruises as well. According to Park West Gallery, art auctions during cruises create "entertaining, educational, and welcoming environments.". They feature art cruises, where participants and voyagers enjoy auctions and other events while on cruise ships in beautiful locations. Norwegian Cruise Line has 'music-themed' cruises, where music is the core of the entire experience. These places are great resources for finding work, especially if you can talk to their event coordinators.
Look For Places Who Want To Connect the Industries Already
There are entire blogs dedicated to connecting musicians to cruise entertainment. These should be some of the first places to begin seriously looking to connect your own dots. While this kind of gig may not be the most popular conceptually, once you begin looking into professional details, it may by one of the most consistent ways to play and pay in a superior environment to an audience that is really looking forward to hearing you, day after day.
These blogs will not only connect you to specific opportunities, they can also connect you to management firms, individual promoters, advertisers, and companies who might be willing to sponsor some part of your band's equipment or expenses if you are willing to carry their brand name with you. The opportunities are endless with the right kind of motivation and perspective.
Another great way to break into the cruise ship music industry is if you can talk to someone who has already had a successful gig. Find out how they got into it, and possibly if they can give you a reference or recommendation into the right hands.