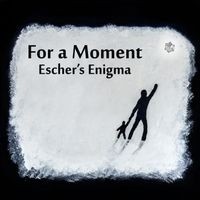 Not so much in music but in movies there has been for a while this kind of curse where sequels usually are doomed to failure, though a few films find the way to break away (take the The Godfather II as an example), they happen to be better than the original. Well, the same happens with father and son duo Escher´s Enigma new record and a follow up his EP From Me To There. The band has been making music for 40+ years in the scene and while they might not be masters in their craft, they definitely have learned some things along the way.
For a Moment not only has a better quality than its predecessor but it showcase different and new sides of the band making this a very eclectic and original album. ¨Should Have Known¨ kicks off with Brian´s trademark acoustic guitar and raw, edgy vocals that might sound crazy, but it reminded me a lot to Weird Al as he has a really unique way of singing that makes you wonder if he´s singing for real or not as he tends to fool around with his voice a lot. Throughout the whole album, what makes this record so interesting is Brian Miller´s style, while Russ Miller´s bass lines really gives a nice touch to every song, together they create this really awesome sound that´s hard to label, reminiscent of iconic bands and artists such as R.E.M. and Bob Dylan. Sometimes Alternative, sometimes Folk.
There´s honestly nothing bad to say about this record, especially once you listen to their last EP, the band has improved a lot both musically and the vocals. While their last effort sounded more like a demo, this one really feels like they put a lot more effort and was recorded at a better studio which considering the music they play and Ben´s vocals, it was a good choice it needed to be done if they were hoping to find some minimum success in this tough industry where only a few get the chance to shine.
Overall, this is a band that really has a potential to break through the scene, even though they aren´t as awesome and blood pumping as other two-piece bands like The White Stripes, The Black Keys and Royal Blood, at least they bring something new to that specific scene. So what I would recommend you to do is to look for this band –if you could get this new material that will be much better-, press the play button and enjoy. Some might keep going back and wait for more as I do, others will only spend one hours of their time listening to something cool and moving on to something else – the band and I more people join the first group.
http://www.reverbnation.com/eschersenigma
http://www.mtv.com/artists/eschers-enigma/
by RJ Frometa