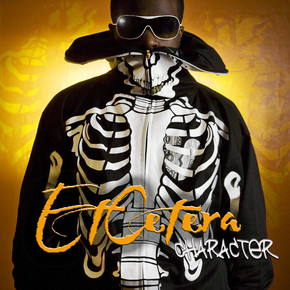 When you look for talent in today's music industry you need to weed out the wanna-be's and DYI's (What is DYI's) before you find something special. It has become a saturated market in almost every area of the entertainment world. Since the birth of the internet every kid and his grandmother can supposedly sing, dance, act and do almost anything. It is almost sad at first but then a shining light arises that offers a new perspective on the business.
This can be true for pop hip-hop recording artist, actor and writer, Shawn "ETCETERA" McClain. Here is an artist that never lost touch with his roots or how he arrived to where he is now. A product of Brooklyn which once was the original hip-hop mecca, he swore never to let his God given talent go to waste. Hence he forged on to make his mark in the industry.
Shawn "ETCETERA" McClain has paved a way for himself in the music industry that is opening more doors than expected. As an aggressive individual he has safeguarded his career and chose to hand pick events that can only elevate his success but never forgetting the venues that brought his career to the next level. So he has done everything from public access TV to being interviewed by CBS on the red carpet at the recent 57th Annual Grammy:
http://www.cbs.com/shows/grammys/video/KyEeG4BpsneHJeLeTe2fnl4qOnjkDdS_/grammy-awards-etcetera-s-reaction-to-katy-perry-s-super-bowl-performance-is-priceless/
"It is just an accomplishment to be able to do what I do and still be relevant and of interest to millions of people. Each accomplishment I make in this industry is a success."
ETCETERA has worked hard at standing out from the rest in the hip hop / pop world. From his signature Riddler hat to his charisma he has captured the hearts of many. Most people equate hip hop artists in a negative light yet ETCETERA manages to vanquish those stereotypes. He is not only a hip-hop artist and actor but also a generous individual who gives back to the community. He not only has a youth sports organization but a sports management company as well, Team Idol. The company assists young hopefuls to reach their athletic dreams.
So far Team Idol has produced champion skateboarders, a skateboard line, an athletic apparel division and a WNBA player. The company is run by Steve Edwards, who is also the marketing director for the Staten Island Yankees.
Currently, ETCETERA has all eyes now on his new album "Character" which couldn't have been a more appropriate title. ETCETERA is man who has managed to play many characters in his life. Whether it was on stage, TV or film he has always built a new bridge in his mission as an artist.
by Nick Christophers