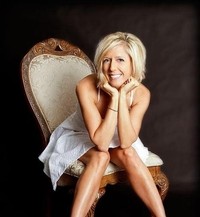 Renee Ruth Band's "Wanting Me" is a hot spicy song dedicated to passionate love and lust. Her voice carries the entire thing. The rest of the band merely orbits around her commanding voice. Playful the lyrics bounce off the lively rhythms. With remarkable clarity the song's clear narrative between the singer and the onlooker show off a difference in perspective. For the onlooker they pine whereas for the singer there is no need for them. Instead of returning the attention the singer simply notes how being alone can be better.
Audio: http://www.reverbnation.com/reneeruth/song/22691630-wanting-me-renee-ruth-band
Video: https://www.youtube.com/watch?v=Z4MS7broy8c
A horn opens up the song quietly before bursting into full color. The piano work is particularly playful. Here it is obvious that the band listens to itself nicely interacting keeping themselves in tune with the overall feeling expressed by the singer. By giving themselves a little bit of leeway within their work the band is able to explore slight nuances within the sound. Meanwhile her voice continues to command the most attention as she describes how the onlooker is not automatically granted attention. When her voice drops out of the mix halfway through the song the band is able to fully indulge their passionate playing. On the latter half of the song the amount of space for the band increases as the guitar work becomes quite nimble.
Full of defiance "Wanting Me" is a song that embraces the joys of self-reliance. This is a song that rejects the romantic notion of needing someone, anyone, and opts instead for independence.
Posted by Beach Sloth – http://beachsloth.blogspot.com/