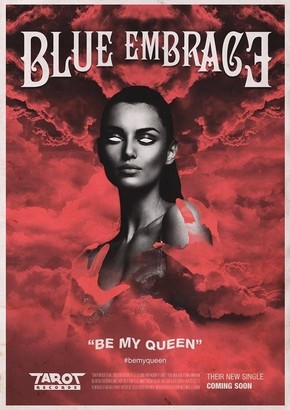 With a hit single already under their belt [Devil In Disguise] and Grammy consideration, L.A. band Blue Embrace are gearing up to release their next big single "Be My Queen" on vinyl accompanied by video.
Skope: Your songs not only have a blues flavor, but also sound like they could be at home with a lot of classic rock, like Led Zeppelin for example. Do you consider yourselves a modern day classic rock band?
Blue Embrace: Hello Skope Mag! We don't consider ourselves as a classic rock band, we just love music and we are constantly writing and reflecting what is going through us, we don't label ourselves in any genre since we actually like to go musically all over the place
Skope: I read that your guitarist is from Argentina. How did the band come together?
BE: Yes Oz is from Buenos Aires, Argentina and created the BE project, the band came together as a music project back in late 2008 with the main concept of reflecting the music feelings of each member through music.
Skope: How did having those roots affect your songwriting?
BE: A lot , that is the primary reason we came together as a group to reflect different musical point of views but with same concepts at the same time.
Skope: Who are some of your main influences and what is it about them that helped to shape your own sound?
BE: Influences are all over the place going from Classical music, to flamenco, tango, jazz, blues to rock and we use them depending what feel we want to give to the song.
Skope: You've had a hit single with the song "Devil In Disguise". Did you know that you had a hit with that song, like did you have a magic moment where you just knew there was something special about it or was it just another song in your repetoire?
BE: Everything was special with Devil in Disguise, going from the music to the lyrics and with all the different situations that happened during the recording and the video filming process, also it was the first time we moved from releasing full albums to singles.
Buy: https://itunes.apple.com/us/album/devil-in-disguise-single/id581217585
Skope: Your new single is "Be My Queen", is there anything you can tell us about the song? Is it about someone in particular?
BE: Be my Queen is the sequel of Devil in Disguise, within the single format it has allowed the band to create a more cinematic view of our music. It is the best Blue Embrace song so far in our point of view and the rest is a secret! but if you have followed the band we are certain you will not be dissapointed.
Skope: After your single comes out, what's next for the band? Are you touring to support it or are you planning to release a full length album?
BE: We are constantly writing and recording new material, The devil in disguise tour took us to several different states and countries and we loved it, We don't play live that often, every single show we play are always different since we try to create a new experience for the public and for us as well, we like to play with that concept, we may play a show in San Juan Puerto Rico or play for a new Single release in London Uk or in a Sunset Blvd club in Hollywood
Skope: Speaking of singles, what do you think of the current state of bands releasing only singles? Is the album format dead? Or do you believe that albums are essential for building a band's identity?
BE: The singles format fits really well with us, we see our music more like "paintings" we particularly prefer to spend the very best of us into an specific song than doing the typical music business cliche of releasing an album with 2 or 3 good songs and the rest fillers, we just don't agree with that.
"Devil In Disguise"
https://www.youtube.com/watch?v=VJM21uGtgNA
Skope: How is the rock-n-roll scene in Los Angeles? What do you think of the current state of rock music?
BE: The rock n roll scene in LA is constantly refreshing with bands and music, we have particularly played everywhere in LA since 2008 and besides the scene Los Angeles has that mojo or feel that is unique. Rock keeps evolving as music itself does, it is way different as it used to be but time keeps moving as well.
Skope: What parting words of wisdom would you give to the kids at home dreaming of one day becoming a rock star?
BE: Every year that goes by we live in a society with more stress, more issues, more problems, when you get into the music world you are getting into a place that makes your life more berable that lets you find you with yourself, once you are inside of the music world things don't bother you as if you weren't because you have better things to do (write). and all that is FREE comes with ourselves! you don't need to be necesarily famous or popular, you are succesful in music when you find with yourself and are able to put that into music.
So there you have it, if you want blues tinged rock in the modern age, Blue Embrace is your new go-to band. So, now you know.
Be sure to follow Blue Embrace through social media @
https://www.facebook.com/bluembraceofficial
Twitter: @BlueEmbrace
http://www.mtv.com/artists/blue-embrace/
http://www.instagram.com/bluembrace
http://www.reverbnation.com/bluembrace
By: Douglas Garnett- douglas.garnett@gmail.com