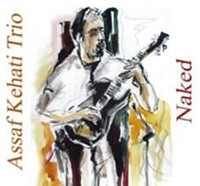 This CD "Naked" is the latest release from Boston based Jazz Guitarist and his trio. As a leader, Mr. Kehati has recorded three CDs that have received numerous rave reviews – A View From My Window (2010) and Flowers and Other Stories (2011) and his latest album, Naked (2014). This latest 9 Track work gives birth to a fantastic musical journey which takes you through an exhilarating experience. For the most part Assaf Kehati Trio play original compositions featuring Jazz. I heard one Jazz critic say: "If you can't appreciate the song by listening to it played merely on the guitar, something in the composition must be missing'. I couldn't agree more.
Assaf Kehati Trio are: Assaf Kehati (Guitar), Ehud Ettun (Bass), Ronen Itzik (Drums).
CD showcases the many impressive musical layers of some fancy fretwork not often heard in today's Smooth Jazz music – but can be heard in refined contemporary jazz. Kahati delivers a gifted playing ability that resonates deep at the core. The CD opens really sets the mood with "Song for Saba" and toe-tapping "Long Ago and Far Away" and my top pick the title track. These pieces would even make artists like Martin Taylor quite jealous. These are three grand opening statements which are made up of fairly straightforward jazz songs. Many songs on "Naked" feature catchy guitar melodies, red hot licks, dynamic drums and throbbing bass as primaries. There are a few extended solo segments as well. All three work well as players in perfect unison with this style of music and is somehow unique, but hits all the notes very well. The powerful playing and songwriting touches are just as personal as his melodies are. It needs to be said – there's a certain amount of mood assigned to each track as well. The first few times I listened to it I was utterly keyed up by it. Some of the topics are not overly bright and happy as they are passionate. We are talking about Jazz here with no limitations. Kehati knows how to write and play you a captivating melody without being to over the top about it all. What is there not to like about all of this? I also get the impression these musical statements apply to his life in some way. The fact he chose to put a tranquil piece like "Song do Saba": tells me quite a lot. Very un-overcompensating.
The strong first impression 3 track intro not let up as the album progressed forward. The next few songs kept things strong with rock steady "Beneath the Almond Tree", "The Horses' Flight" and the tantalizing "Nathan Bo Rega" keep it consistent and are the strongest territory emotionally for this record. I would even wager some of these songs could have been big on most Jazz station you hear on the radio dial. There's something that screams contemporary Jazz or smooth Jazz when I listen to this music – and this is a compliment.
"Naked" by Assaf Kehati is par for the course if we are talking about Jazz. "Naked" is one of those albums that instantly grows on you. This soulful offering has hidden moments of Rythem and Blues ambience provides a mature sound and songwriter type feel. All songs have solid rhythm, featuring an involving bass-lined and intricate slow burning rhythms that interacts well with this catalog. The overall music is excellent and not only contains strong hooks, but it seems to soar at times like the emotions of life. Like me, you'll probably like it if you want something unpretentious to put you into that mood. It's a mood album for sure and only great artists like Assaf Kehati pull it off and sets it all too well.
PURCHASE LINK: https://sites.google.com/site/aknaked/
URL: http://www.assafkehati.com/
Michael Dyer