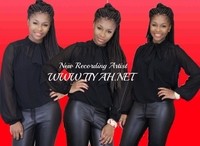 TIYAH takes songs and makes them better. By adding her own distinctive flair to these beloved pieces she is able to explore different moods within them. Her approach is casual and carefree. Put together they reflect upon her own unique strengths alongside her backing band which offers the right kind of adornment for her smooth delivery.
"Don't Know Why"
https://soundcloud.com/sister_anthem/dont-know-why-cover-by-tiyah
"Don't Know Why" stays true to the original to some degree. While the melody is instantly recognizable TIYAH's take on the song feels much warmer. On the original piece there is a slight sense of distance giving that piece a slightly detached feel. Such is not the case with TIYAH's much warmer take on the song. From the start the laid-back vibe of the original is apparent yet things are slowed down just enough to give the piece a slight sense of dreaminess. TIYAH's voice confirms this different approach letting it unfurl slowly. Especially towards the end as the song comes to a close TIYAH's work has a slight edge over the original as her delivery feels realer.
"Have Yourself A Merry Little Christmas"
https://soundcloud.com/tiyah_newmusic/have-yourself-a-merry-little-christmas
Of course as this is the holiday season TIYAH covers a Christmas classic "Have Yourself A Merry Little Christmas". Nicely embodying the moodiness of the song, the mixture of hope and slight tinge of sadness, the song is delivered perfectly. For there is always something a little sad about the song, how it is delivered, and even the off-ness of the lyrics. TIYAH captures this element in her own voice.
Together these two pieces display TIYAH's undeniable talent.
Posted by Beach Sloth