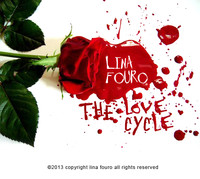 Lina Fouro's "The Love Cycle" combines delectable pop with colorful imagery. With a clear debt to dance music "The Love Cycle" bounces. Melodies glide by luxuriously. Impeccably produced the songs sparkle and shine. At times the music feels so joyous it might as well be neon-tinted. Pieces move by quickly as the tempos blare forth full of energy. Such things are truly wonderful to behold. The true heart of the songs are the crystal clear vocals that add the necessary heart and soul. Everything on "The Love Cycle" points to the idea of balance, the right mix of party and of contemplation.
"Boom" Video: https://www.youtube.com/watch?v=B6XSigob-Qo
The aptly named "Boom" starts things off with a bang. Repetitive rhythms put the song into a trance. "Bang Bang Baby" continues this frantic energy replete with handclaps and a slight tinge of dubstep. A good sense of structure is obviously apparent on "A Little More". Moving into quieter territory is the dreamy "Again". Line Fouro's previous flirtations with dubstep reach critical mass on the impressive "Down". Showing off an adept understanding of atmosphere is the dark "Before". Returning to the high energy of the album's opening is the infectious "Funk". By far the highlight of the album is the extended jam of "Always Falling". With an elegant buildup the song is perfect right down to Lina Fouro's impassioned vocal delivery. Things end off on a distorted playful note with the funky "Delamhaust".
Tasteful and flawless, "The Love Cycle" shows the emotional depth of pop at its best.
https://itunes.apple.com/us/album/the-love-cycle/id947387797
Posted by Beach Sloth