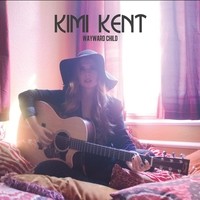 Kimi Kent's "Wayward Child EP" embodies music with true heart and soul. Songs burst forth with great energy on the EP. Everything comes together to paint the portrait of a lovely life. Little lyrical flourishes work wonders as does her powerful singular voice. Her arrangements are tasteful and concise. Nicely unfolding to reveal great beauty the pieces go from passionate pieces to the feel of a lazy Sunday afternoon.
Buy: https://itunes.apple.com/us/album/wayward-child-ep-ep/id860080932
Listen: https://www.reverbnation.com/kimikent/songs
Light dreamy tones introduce the strong opener "Gone". At first seemingly spaced out the piece broadens to reveal a great overall of energy, with a strong rhythm section keeping everything propelled. The rollicking experience continues with the romantic notions of "One More Look". With a sweetness and longing the piece is incredibly optimistic in tone. Moving towards darker territory with "The Cheating Kind" Kimi Kent displays her ability to create elegantly crafted chamber pop akin to that of Lambchop's warm observational lyricism. By far the best piece on the collection every element is well-placed from the low key rhythm to the tender chorus. Slower tempos continue to prevail on the thoughtful "Wayward Child" whose organ work is particularly delightful. "Tried" takes things into a languid pace nicely referencing the best of classic country and rock. Ending things on a hopeful note is the optimistic "Happy Christmas (War Is Over)". Taking a stripped down approach all that remains are the voices and a passionately played guitar.
The honeyed sound of Kimi Kent is a unique unforgettable experience.
Posted by Beach Sloth