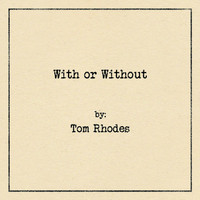 Tom Rhodes "With or Without" is as warm and as real as a group of friends gathered around the campfire. Honest, sincere, and raw, "With or Without" is the sound of country music done right. Vocals drive the whole thing, as Tom Rhodes' voice is without peer. His band is amazing as well, knowing when to whisper and when to rise up with his powerful lyrics. Everything feels perfect: from the large overall catchiness of the pieces to the smallest detail, it is all there and it is all right.
iTunes: https://itunes.apple.com/us/artist/tom-rhodes/id930296592
Audio: http://tomrhodes.bandcamp.com/
"Cold and Deep" opens the album off on a spry note. The rhythm is fast, the guitar work nimble, and the chorus a nice touch. For the final moments the song takes on a rollicking carefree feeling ending things off on a high note. Opting for a whisper is the intimate "Heartland" whose soulful introspective vibe make it one of the best songs on the entire album. A comfortable groove takes hold for "Connection of Minds". "It's Still True" resembles the sweet optimism of early mornings. The band works wonders on the earnest "Nobody's Listening". Comfortable and catchy is the album's heart "Calling Out". Distilled to Americana perfection is the graceful "Bread and Roses". Finishing the collection off on a quiet note is the hopeful "California".
"With or Without" is a diamond in the rough: an album tasteful, restrained, and devoid of cynicism. It is a beautiful thing to behold.
http://TomRhodesMusic.com
https://www.facebook.com/tomrhodesfanpage
Posted by Beach Sloth