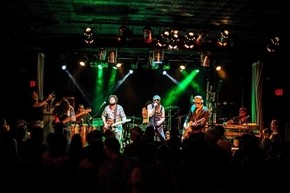 Rarely do I watch a music video of a band I have never heard and completely go crazy about them. This has happened with The Higher Choir. It took me a few minutes to figure out what it was I liked so much about them. The video "Working Mans Title" was well crafted and visually pleasing and singer Chance Walls has a style all his own. I enjoyed the infectious sustaining/droning guitar sound throughout the song. The southern rock and blues sound of the band along with their original storytelling style of songwriting creates an interesting and unique experience.
Besides performing in Atlanta at some hometown favorite spots and festivals, they have shared the stage with artists such as Joan Osbourne, Soul Asylum, and members of The Black Crowes. In November they went on a concert cruise to the Bahamas with Lynyrd Skynyrd, Foghat and Blackberry Smoke.
Singer Suzanne Sledge from "68-75" said "Personally, I think The Higher Choir is one of the most important bands to come out of the South. They are a must-see live and they continue to grow year after year. I was proud to be a part of their latest recording and I hope 68 will share the stage with them soon. They are some of the nicest people I've ever worked with and I'm proud to call them friends".
BAND LINE-UP
Chance Walls – lead vocals, aetherphone
Alan Conner – guitars
Grant Mitchell – guitars, vocals
Harold Sellers – percussion, visuals
Stephen Darley – bass
Wayne Glass – drummer
Lead singer Chance Walls answered some questions for me on behalf of the band:
The Higher Choir "Workingmans Title"
http://www.youtube.com/watch?v=iybp9mIKFAM
Where did the name of the band "The Higher Choir" come from?
We came up with THC because there are quite a few of us in the band 7-9 depending on the night. Plus Choirs are associated w/ gospel and soul. Which me mix with southern rock and blues. It's fitting for us.
How did the band come together?
We have all been friends for along time and have played in several other bands together, it was only a matter of time before we banded forces and came up with THC.
Who were your early inspirations?
We take early inspiration from where we all grew up here in The South. We do a lot of story telling in our song writing all based on Southern Culture. We love where we are from and grew up and it's reflected in the music we produce. We all were brought up on 50's, 60's and 70's rock.
Who does the songwriting?
We all play a part in the song writing process. Alan Conner one of guitar players writes great songs so we all play our part in the build of that foundation. It takes us all to create what we do.
I see you have a cruise concert with Lynyrd Skynrd, how did that come about?
We do have a cruise this month w/ Skynrd and lots of other great bands. We were asked to play by management so we happily agreed to do it. Who doesn't want to cruise to the Bahamas w/ some of the best southern rock bands in the country.
What would you like to be doing 5 years from now?
In 5 years I think we would like to have a couple more records under our belt and continue touring and making videos. We would love to head to Europe next!
https://www.facebook.com/thehigherchoir?ref=hl
Diana Olson – diolson05@yahoo.com