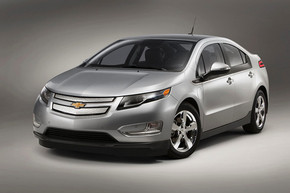 From drastic exhumation of smoke, toxic gases, carbon monoxide and greenhouse gases polluting the atmosphere, to the rapid depletion of crude oil resources, owning a car with an internal combustion engine is like committing a crime in today's world. That said, there is a way out, in the form of eco-friendly cars. These vehicles have been developed specifically keeping the needs of the environment in mind. From hybrids which run on electricity alongside fuel, to electric or even solar or hydrogen-powered cars, the market is now teeming with several brilliant green cars which have arrived for the salvation of Earth. Here's a look at the best and most popular of these:
Mitsubishi i-MiEV
To start off our list, we have the Mitsubishi i-MiEV, one of the world's best full-electric powered hatchbacks. It is possibly the most efficient car in the market as well, as it has the world's highest Miles per Gallon equivalent (MPGe), averaging at 112 (99 on highways and 126 in the city). Statistics show that this beauty is easy on your pocket as well, as operation costs are as low as $0.90 per twenty-five miles traveled. The ride quality is fantastic as well, and charging is no issue, as the powerful 16 kWh Li-ion battery can get up to 80% charged in a matter of half an hour through any level 3 public charger.
2011 Hyundai Elantra
A surprising inclusion in this list, the Elantra is neither a hybrid, nor a full electric car. However, what really provoked its inclusion here were its great scores when it came to mileage and fuel efficiency. It gives 40 MPG on highway, and 30 MPG on the city streets. These impressive stats, combined with Hyundai's perfect mix of style, luxury and dependability make the Elantra a perfect green vehicle!
Chevy Volt (Photo)
No list of eco-friendly cars is complete without the Chevy Volt. One of the first in the plug-in hybrid category, it still boasts impressive features along with good looks. It has an unbelievable 94 MPGe combined, which blows any and every of its contemporaries out of the water. It has an energy impact score of 0.4 barrels per year, which is quite fantastic. Even when you operate solely on the gas engine, you get 40 for highway and 35 MPG in the city.
2011 Honda Insight
We've really seen a lot of iconic hybrids come up in the last few years, and the Insight is one of the best. It offers 40 to 43 MPG based on usage conditions, and also is considered the most affordable hybrid car, starting off at nearly $20,000. These brilliant features combined with the great pricing make the Honda Insight one of the most loved eco-cars around.
Toyota Prius
How could anyone ever forget the Prius? Over the years, the term "hybrid" has become almost synonymous with "Prius". One of the first ventures into this segment, the Prius is also constantly upgraded, making it both efficient as well as iconic. It also ranks among the very best vehicles in its segment, boasting a combined 50 MPG. Toyota's undying support only makes it better.
Honorable Mentions
While these are the top choices when it comes to green cars, there are several more which are worth mentioning. The brilliant Nissan Leaf may look unassuming, but it has incredible features, a combined 99 MPGe (92 Highway and 106 city) and costs a tad over a dollar per 25 miles. Another completely unexplored segment is the cars that run on natural gas. The best among them is the Honda Civic Natural Gas, and has a higher green score than even the Prius.
These are a few of many vehicles which are manufactured by big companies to keep the Earth clean and green.
Author Bio: Richard Forster is an automobile expert who is a senior executive at ideal Auto USA. He has been in the business for over a decade and enjoys sharing his know how on his blog.