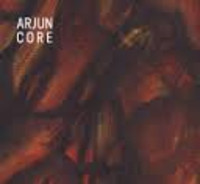 ARJUN, the three-piece instrumental band from New York, has been trailblazing their own hybrid of rock and improvisational jazz since 2003. Made up of Eddie Arjun Peters (guitar), Lamar Myers (drums), and Andre Lyles (bass), ARJUN fuses the power of rock with improvisational alternative jazz, resulting in a delicate balance of intricately crafted melodies backed by powerhouse musicianship. The band can rock thunderously with driving rhythms that will shake you out of your seat, then quickly downshift and display sensitive, evocative playing with their soulful emoting. The group's raw, guitar driven grooves and energy creates a big sound with no frills. Audiences identify and respond to this energy. For them, it is truly a cathartic experience. Hearing is believing! Their latest release "core" was released in 2014.
Right from the start this band features the massive guitar tones and playing from Peters. Together these three share a short but rather rich history of putting their own stamp on blues classics as well as ripping through a deep catalog of rocking blues originals with heart, soul & feeling. Influences I suspect are: Jeff Healy, Eric Clapton, John Mayall, Jimi Hendricks and legendary SRV.
Track 1 "Rocks" provides smooth as silk rhythm guitar, inviting rhythm section and a captivating yet in your grill musical performance from these 3. The vibe provides to me slow burning progressive blues with some amazing chops. Track 2 "Deep Impact" lets it all hang out with an instrumentally rick set that I only wish went on for a few more minutes. Being a professional event planner, I cannot get out of my head the idea that both these tracks filling almost any social function. Both tracks have a whimsical feel that makes the world seem right but there's an underlying sense of hope that your future looks brighter than your past. Just when you think you got this guy and his band down you get blindsided by listening to more material available on line. Not only is Peters and company capable musicians, their contribution to the writing and arrangements of all these songs is of paramount importance. I've seen videos of these cats performing songs in an up close and personal setting. This is where true talent either flourishes or fails to show up. I think live is where these 3 flourish and will seal the deal for most anyone. To say nothing of the pervasive and contagious chemistry he shares with the other 2 musicians present. As a whole the band plays like a well oiled machine. I might add there is music here for old school Americana fans as well like myself. Indeed Arjun aims to please new listeners as well as his songs are also placed in a near perfect arrangements.
URL: http://arjunmusic.com/blog/
3.5/5 Stars
BANDCAMP: http://arjun.bandcamp.com/album/core
Nicole Matheson