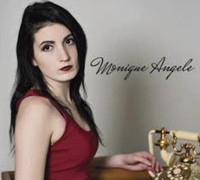 Monique Angele is a unique emerging singer-songwriter from Toronto, Canada. Her self-titled debut EP is a combined style of classical and pop, officially naming it "divine pop." Her versatile style portrays pianistic finesse and soaring vocals. Today I am listening to her debut self-titled EP released in 2014. This is such a complex, amazing and dramatic album what else can I say? This debut EP by Canadian Singer/Songwriter/Pianist Monique Angele is more than amazing and dramatic, it's also extremely suspenseful and somewhat theatrically. It has a very quirky-almost gothic dark quality to it as well.
The intro track "Poisonous Touch" gives you the impression as if you were in some noir, Hitchcockian themed movie. The really dark, yet emotional charged vocal/guitar/piano combination in the middle of the song almost leaves you breathless. The music is also reminiscent of acts such as Patty Griffin, Patty Larkin, Mindy Smith and even Nanci Griffith. Angele has a strong tonality foundation combining mesmerizing peak and valley rhythms, hypnotic piano/guitar and spaced out goodness. The vocals from Angele are interesting and beyond impressive. If these tracks were more rocked out I could hear maybe Evanescence, Amy Lee, Within Temptation and even We are the Fallen especially on track like "Pity" and "Waltz". How crazy is that? It's almost as if I want to her in a Goth Rock band. What's more, without a doubt, it's impossible to deny the superiority of this band backing her up. It's epically, quirky and wildly unpredictable. At times you almost get this feeling as if you are in a funny nightmare. The drums and the bass lines just help push the album forward, and the vibe, if you pay attention carefully, has a really odd, mysterious, X-File sort of vibe to it. As the CD evolves it showcases some dramatic combination like classical pop, gothic rock and some slight Electonica overtones. On many these tracks there is a distinct mood assigned to each piece that will take you on a whirlwind musical adventure. In conclusion, here's a CD release I've been dying to get my hands on. I was unable to stumble across her until today. Did I mention it's also very subliminal, and a grand concept that's sure to get many people's attention.
I could be wrong but I detected some subtle micro timing errors during the finale of "Eyes" mainly between all the instrumentation – not in synch.
From the production level, to the musicianship involved, this latest self-titled EP release from Monique Angele delivers in grand fashion. Let's also give credit to the real talent behind all this shall? Monique Angele superlative signature sound via her trademark look and persona work terrifically well. This 6 Track self-titled effort by Monique Angele will keep you in a state of wonder from start to finish.
URL: http://www.moniqueangele.com/
Rating 7/10 Stars
Soundcloud: https://soundcloud.com/monique_angele
by Collen Walls. Edited by Heather Savage
Review comments: heathersavage5@gmail.com