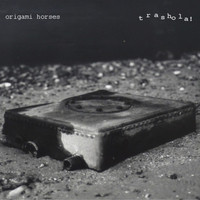 "Trashola!" runs the gamut from the Velvet Underground's party rock to Slint's Post-Rock. Styles range from noisy abrasive lo-fi garage rock jams to droning Zen-like repetitive pieces. While they extensively reference the past they add their own peculiar take. Unique vocals, the soothing calm of the bass, and the large dollops of distortion that pepper the pieces, "Trashola!" harks back to a rawer rock sound. Among these pieces is a good sense of humor shown in their song titles right from the opening track "When B-Sides Mattered".
Listen – https://origamihorses.bandcamp.com/releases
Employing a jerky rhythm and partly comprehensible lyrics "When B-Sides Mattered" starts the album off on a high note. On "Velvet Rock" Origami Horses manage to dig themselves deep into the mind. With highly energetic hypnotic work the song is one of the best things. By continuing on a frenzied note it references the best of the Velvet Underground's most decadent physical works. This mood completely shifts on the weird, Slint-inspired groove of "To Spiderland!" nicely capturing Slint's angular guitar work with their distinct take. Returning back to noisy work "Dumb Luck" is a song verging on outright insanity building up and up until it ends in a well-deserved cacophony.
For the final stretch of the album Origami Horses moves into minimal, off-kilter territory best represented in the uneasy dream-like rhythms of "A Spoken Word Introduction". It sprawls out into infinity using economical means, embodying the perfect kind of rock trance. "Double Chime" ends the album off neatly merging their garage rock and repetitive drone into a coherent lovable extended jam that fades out. Origami Horses folds up upon itself and the resulting shapes of the songs are downright beautiful.
https://www.facebook.com/pages/Origami-Horses/313688625347382
Posted by Beach Sloth