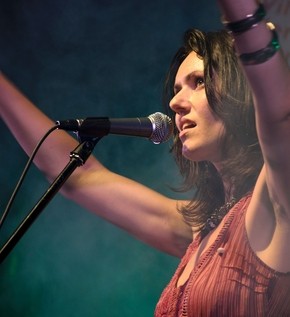 Hello there good music loving people of earth. So what is going on in music these days? Mike Smith, president of Michael Smith and Associates, has announced open registration for the Fall edition of his Artist Management Training Course. Hosted by the 30-year music industry veteran, Artist Management Training Course is designed for those seeking a career as an artist manager, as well as for artists that want a better understanding of the industry and proven tools to move themselves forward – http://tinyurl.com/ArtistMgmt. That sounds awesome! Spotify is officially live in Canada on mobile, tablet and desktop. "Spotify is launching in Canada with a comprehensive catalogue featuring the best local music from every genre, region and generation," said Ken Parks, Chief Content Officer, Spotify. "This is a Spotify that has been tailor made for Canadian music fans." Now lets get to my musical guest of the week by the name of Olya. Olya is from Russia and she is talented, ambitious, beautiful, and her music is contagious. She recently released 2 new singles while she finishes up her album and will be at CMJ. We got to chat with Olya about Halloween, growing up in Russia, going out in NYC, and so much more!
Stoli: Where are we talking from today and how is your week going so far?
Stoli, How are you? My week has been crazy! Ahaha. We just played a show in September at The Bitter End and are getting ready for one of the largest music festivals in the country, CMJ (College Music Journal) held from October 21- October 25th in the heart of NYC. A lot of things need to be wrapped up before the 5-day festival loaded with industry panels and live shows. I also need to get ready for my own CMJ performance on October 23rd. In addition, I've been spending a lot of time in my home studio and in a mixing studio, finishing up my new album!
Stoli: October means Halloween. Do you get all into the holiday spirit and what will you dress up as?
Well, this is very true, until you move to NYC, then October means CMJ. But bad jokes aside, I absolutely love this holiday and amazed to see how seriously it is taken by all New Yorkers. People just don't mess around here. Halloween parade, Halloween party in every apartment, on every roof and every club, and streets covered with a never-ending stream of creativity and fun! We played a Halloween party last year in an awesome Brooklyn loft space – the party was busted 4 times that night, but kept going till 4am! We don't have any plans this year yet, but it's a long way till October 31st!
Stoli: Growing up when did you take on music and what was it that made you so passionate?
Born and raised in Moscow in the family of musicians, I have been singing ever since I remember myself. As a kid, I joined the Big Children's Choir of Moscow Radio and TV. I feel like the 10+ years spent in the choir, had a huge impact on my musical upbringing. From Russian folk songs to the masterpieces of Classical and Baroque composers – I had a chance to sing a wide variety of music while touring around Europe and performing on Moscow largest concert stages with the largest Russian orchestras! The concepts of a choir and harmony were deeply imbedded in my perception of music and made me treat my voice as an instrument. Overlapping harmonies and numerous vocal parts (that sometimes substitute an instrument) is what I widely use in my songwriting now. The combination of multilayered voice with the dance beats and deep bass gives my songs the "now" feel and makes them more fun!
Stoli: How was life growing up in Russia and when did you make the jump to NYC and the USA?
Russia was full of teenager's discoveries: college, music, nightlife, first heartbreaking love! But then my family decided to get more adventurous. So while still in Moscow, my family applied for the Green Card lottery. We didn't really hope to win and didn't plan to move. My parents, my sister and I were all living our busy Moscow lives, when one day we got a 5am phone call – we won a green card! It meant only one thing for us – we got to go.
In 2000, my family moved to America, and, in 2005, I came to New York, where I started writing for the first time.
Stoli: Would you say that your friends and family have been supportive when it comes to your music ambitions?
Both of my parents are professional musicians. At an early age, it was somewhat hard to convince them that I am capable of making a worthy musical contribution to the world. Well, until I started writing my own songs. They are extremely supportive of what I do now and know all my songs by heart!
"Crash And Burn"
https://soundcloud.com/olga-kisseleva/crash-and-burn
Stoli: I love your single "Crash and Burn." When did you write and record that single and what are the lyrics about?
Glad to hear that you like "Crash and Burn"! It came out as an experiment with a new to me genre (synth-pop) and a new songwriting style. The opening vocal line was the first thing that came to my mind. I recorded it on my iPhone voice memos on the street and rushed back home to work on this idea. As I got home, I continued with the interplay of voices with percussive instruments and beat loops. Only after the song was completed, I came up with the subject. It sounded very uncanny and daring to me, so after listening to it hell knows how many times, I started clearly visualizing a car race scene. Love for risk, freedom and speed became the main theme of this song!
Stoli: You have been putting out music now for many years. How do you always look to keep your music original while also keeping up with the times?
At times I feel like I am in my own world, on Planet Olya. Lol. But since I stated producing my music myself, I've been paying much more attention to the current trends. I listen to the newly released albums (from techno-house to indie folk-pop), I listen to top College Radio charts, I go to local live shows, I take classes and watch videos on music production techniques (Coursera on-line classes, Dubspot Youtube channel are two great sources). I once said to myself: "I will stop doing music, when I stop learning."
Stoli: With your amazing vocals and beauty when can we expect to see a music video and what song would you use?
First of all, thank you for the compliment! Now that my new album is almost finished, I certainly want to accompany it with a music video. "Crash and Burn" is a definitely candidate as well as some of my up-beat songs in Russian.
Stoli: With the Internet and social media have your friends and family back in Russia keep up with your music and what do they think?
Absolutely! It's amazing how the world got so much smaller with the social media sites. I was able to reach out and catch up with lost of my old friends and schoolmates back in Russia. I get a lot of support and song downloads not only from my Russian friends, but people I know around the globe. And, who knows, it might be a good time to go to Moscow to play some shows soon!
Stoli: How much time per week goes to making music and do you also have a job/school?
Two years ago I made a conscious decision to focus on music full time. It's both exciting and challenging. It's impossible to quantify the number of hours I spend doing music. Almost every hour I am awake I spend working on a new song, practicing voice and instruments, reading/watching music production tips, working on a promotion for the upcoming show or a poster for the next live event. It's a blessing, it's a curse, but I am absolutely thrilled to do what I love non-stop (with a short break for food, sports and sleep).
Stoli: What do you like to do in NYC when you are not making music?
NYC is overwhelming and very diverse. The hardest thing here is to decide what not to do. Live music, enormous variety of international cuisine, sports activities (I run and bike a lot in the city, parks and trails), catching up with old friend and meeting new people. It's the engine that never stops.
Stoli: What is coming up for Olya and where you @ online?
As I mentioned in the beginning of the interview, I am super excited for the upcoming CMJ Music Festival. We will be playing a CMJ show on October 23rd at Bar Matchless (Williamsburg) alongside 4 other awesome Brooklyn bands as a part of Light-Minutes Away Showcase, which was put together and organized by yours truly.
On November 2nd, we will be performing on the streets of Brooklyn cheering for the NYC Marathon runners! As a runner myself, I am looking forward to this event!
To keep track of all the upcoming events and new release, please check: www.OlyaMusic.net, http://Olya.Bandcamp.com, and www.LightMinutesAway.com. Everybody is most welcome to like my FB Page www.facebook.com/olyamusicworld or follow me on Twitter @OlyaMusic.
Love! Olya