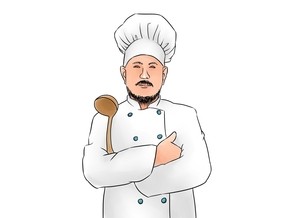 If there is one thing that many celebrity chefs have in common other than the fame and fortune that they enjoy, it is the fact that the majority of them will have worked many long hours while building their career.
A culinary career can be very rewarding as well as a lot of hard work. Here is a look at what you need to know and what you probably need to do if you are going enjoy a successful career and maybe even end up as the next big-name chef on our screens.
Working your way up the ladder
The universal uniform of the kitchen is mostly white although you can get a variety of different styles and finishes from specialist suppliers like Engelbert Strauss.
You may all be wearing white in the kitchen, but there is a definite hierarchy and you have to work your way through the ranks before you can be called a chef, which is the title bestowed on the person who is considered to be the most skilled cook in a professional kitchen.
Make no mistake, a career in cooking will involve long hours and will mean that you will be working many evenings, weekends and holiday periods. It can be a very stressful career when you consider that virtually every meal that you produce is an examination and appraisal of your cooking skills.
The expression about being able to stand the heat in the kitchen is very apt and the theatrical element of producing a culinary delight, is one of the reasons why there are so many cookery shows on the TV.
Qualifications
This is a profession that you can enter without actually having any formal training beforehand.
The main requirements are that you have a real passion for food and really enjoy cooking and preparing meals. Although you don't need any academic qualifications to start your career path as a trainee chef, some employers do like to see that you have attained a good general standard of education, which includes having a GCSE in maths and English.
Teamwork
Whilst you may have individual skills and even eventually become a head chef over time, you do need to be able to work as part of a team.
The head chef can also be known as an executive chef, kitchen manager or chef de cuisine and once you have achieved this exalted position in the kitchen, you will assume the responsibility of running the entire kitchen operation, with the help of a team around you.
Responsibilities
Your main tasks and responsibilities as a chef are varied and there are a number of skills and disciplines that you will have to learn and display a good level of competence in.
Your main task is prepare, cook and present food that meets the required standards, whilst keeping preparation at the right level.
You will be expected to ensure that food is served promptly once it is ready for the table and you will also be expected to be able to monitor food production throughout the kitchen is always of a consistent quality and portion size.
In addition, a chef will need to be able to manage stock control and gauge demand for supplies accordingly. You also need to be well versed in all the relevant health and safety guidelines and ensure that these standards are adhered to at all times in your kitchen.
Career path
It would be normal to start your career as chef by taking on the role of kitchen assistant or trainee chef (aka commis chef) in the beginning.
Working at this level would invariably involve being given tasks in all areas of the kitchen and developing a diverse range of skills as well as learning how to operate the kitchen equipment you be using.
The next step up would be to become a section chef, which is a rank that is also referred to as station chef or chef de partie. This level of authority would see you assume control of a specific area of the kitchen.
Your career path will then take you to the level of sous chef, which is basically the next in command to the head chef. This role would see you take the reins and assume control of the kitchen when needed or when the head chef directs.
Becoming head chef means you are the person that is required to create and update the menus and in a commercial kitchen, your role will also involve producing and then meeting financial budgets.
You might find suitable openings through websites like the Hospitality Guild and from these humble beginnings, you may go on to achieve recognition for your culinary talents and may even become a well-known personality over time, with customers wanting to experience your menus on a regular basis.
Becoming a Celebrity chef
It is hard enough to work your way up to a top position in a prestigious kitchen but one of the rewards for your endeavours may well be that you start to become a celebrity in your own right.
If you are serious about this aspect and have the accolades to back up your ambition, start making connections in the world of media and make yourself as visible as possible with accounts on Facebook and Twitter as well as using Instagram to showcase your latest ideas.
If you are a talented chef, you will often be pleasantly surprised how many press opportunities start becoming available to you, which could well lead you on the road to fame and fortune at some point.
Jack Briggs loves to cook for his friends and family. When he isn't cooking, he likes to read and write about food for fun.