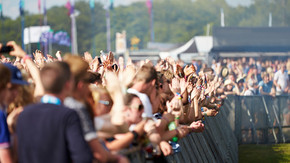 One of the highlights of summer in this country is that we have the cream of the crop when it comes to music festivals. Arguably we have the best in the world and it's down to the fact that we know how to do them well. Our festivals are world famous, and there's a reason. But, when going, especially if this is your first time, there are some things you need to know. Take a look at the infographic and learn it well. You'll be sorry if you don't.
The packing essentials section is vital. I've been to a music festival and I can personally vouch for all of these things being essential… especially the socks thing; you have never seen mud like it. And yes, the old phone is essential as you will most likely lose it; there isn't really any question about that.
If you use a bit of common sense when packing for and enjoying the festival you should be OK. But remember music festivals aren't always the safest places and can turn nasty so being safe is the top concern. Have fun, just be safe.

Your essential festival packing guide is a graphic produced by Gumtree UK