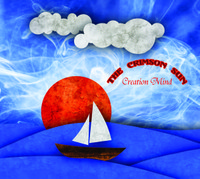 Creation Mind's "The Crimson Sun" is a fine homage to classic rock. With such big dreams Creation Mind covers all with its ceaseless sunlight. The music covers all classic rock variations: from the brilliantly brash album opener and title track "The Crimson Sun" to the quiet "My Lover and My Dream". Even the track titles suggest Creation Mind's fondness for classic rock with songs like "The Crystal Ship" named after the B-Side of The Door's single for "Light My Fire".
Listen: http://www.last.fm/music/Creation+Mind/The+Crimson+Sun
Very aware of the sonic flourishes of classic rock, Creation Mind uses a wide array of colors for their songs from acoustic to full-on stompers. On "Dream Dreamer Dream" they include flutes alongside light synthesizers, showing their keen ability to merge aspects of both the old and the new. A clear affection for classic pop shines through on the Beatles-influenced "S O O N". The vocals are crisp, the harmonies lush. Nowhere is this more clearly evident than on the collection's tender highlight "Gotta Let You See" which incorporates sensitivity alongside incredibly catchy hooks. From there Creation Mind moves into the tight rhythms on "Arrived".
Towards the end of the collection Creation Mind explores dreamier textures. "Okay Today" slows things down considerably. "Many Miles" ends the collection off on a high note, with Creation Mind tapping into the spirit of King Crimson. "The Crimson Sun" shows how to pay tribute to classic rock's past successes while building upon them.
http://reverbnation.com/creationmind
Posted by Beach Sloth