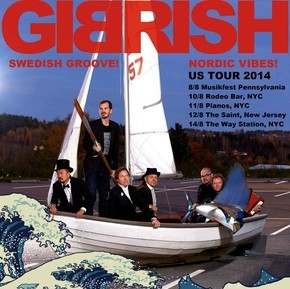 Get ready for the Swedish sensation known as Gibrish that walks the walk and talks the talk. Their musical style is best described by the two band members as: "Nordic alternative folk combined with the old American songbook" and "Gibrified Neufolk". Giving a swift, right jab to the mainstream music scene, Gibrish is one unique blend of proud originality with no time for BS! Expect the unexpected as Gibrish embarks on America this summer hoping to connect with the U.S. audience in a BIG way!
Gibrish represented by Christer Suneson (singer/songwriter) And Erik Gunnarsson (drummer/percussinist)
J Rae: So what's it like living in Sweden and in particular your hometown of Sundsvall?
Erik: Ah, big question… Every place is related to surrounding villages. Sundsvall was the town where wealthy timber merchants (timber barons) resided, buying up lands from locals in the whole region. Not a popular activity. The people of this town were given a number of degrading nicknames partly because of that. How about "Crutch-tinkers"? Nah, it´s a good city to live in – a sort of mill town that has been able to develop after the so-called industrialized era. But being an artist also means that you have a tendency of tracking the downsides of society. We describe a lot of different characters in the local community, quite often people that are struggling to make the day.
Christer: Since long we have had a good social safety net for those who become ill or out of work. But the last ten years the safety net has been dismantled. Many lost their jobs and the number of homeless has increased. So also in our hometown, Sundsvall. This is one of the driving forces in our songs to tell about this alienation.
In musical terms, exciting things are slowly happening in Sweden. Roots music gains more and more attention but it´s hard to get people to the shows. We saw the brilliant Carrie Rodriguez in Sundsvall last fall facing perhaps 40 people. It was kind of tragic in a way.
A handful of Swedish rootsy artists receive much attention and have their big audience abroad rather than in Sweden. Tallest Man on Earth and Daniel Norgren, who we like a lot, are perfect examples of this.
In Sundsvall there's a lot of activity in the rehearsal rooms but unfortunately there are too few live scenes for a city of 100,000 inhabitants.  But it´s ok, making music should never be a walk in the sun. It´s an old Nordic statement, haha!
J Rae: What's with all this Gibrish; how did the band name come about?
Christer: When we first started the band in 2008 the idea was to make something very different, something odd. Some of us had been working as producers and just had enough with the mainstream music. It may sound a little cliché but Gibrish will always be a counterweight to the cheap trends and the mainstream culture.
The word Gibrish means words with no meaning, just random letters in a sequence. We also interpret the word as bullshit. We chose the name to our group as a mark against people with power who would rather just talk than act. It makes us frustrated and it's one of the things we want to write about and work against.
J Rae: I see that Gibrish blends a lot of different styles together such as folk, rock, blues and country to make up one interesting & unique sound. Obviously not worried about genres, which I love by the way, how would you best sum up your group's style of music?
Christer: The members in Gibrish are coming from many different musical backgrounds. It´s Swedish folk, world music, pop, soul, blues, jazz, rock (of course) but also elements of fusion. When a new song is presented we always try to insert a unique, dirty edge to it. Our music is broad and a little hard to put a label on. But it´s a kind of Nordic alternative folk combined with the old American songbook. As if Ry Cooder was playing polka with a Theremin and a Melodica.
Erik: First of all – everyone in the band has an idea, however vague, what it is that makes a tune sound like Gibrish. It can be an odd rhythm, an ambient feeling or the content of the lyrics. At times we are not really sure, but that idea is always present when we play in different situations. And we like to think that we sound Swedish, perhaps one of the reasons behind the attention from non-Swedish venues. Neufolk is a nice label, but whatever tune we play we try to gibrify it. So the label could be Gibrified Neufolk.
J Rae: I noticed that some of your musical influences include: Bob Dylan, Tom Waits, The Band, Allan Edwall and Feist. What is it about these specific artists/bands that help steer the Gibrish ship to shore?
Erik: All of these artists seem to start off with the lyrics, which give the music a special dramatic form. You can go in many directions. And quite often you get close to a theatrical expression. For the balance we try to add a few up-tempo tunes that you can dance to. But following up your maritime imagery it is safe to say that you sometimes bring too much cargo on board the ship with that kind of working-process. In these cases Dylan can help you with the "overweight": Throw the fancy stuff overboard!
Christer:
1: It´s much about their art of songwriting and telling stories from the real life,
2: They were/are pioneers in their field of music and always search for new ways of expressions.
3. They never stand still!
That´s the guiding lines we in Gibrish also always work with. If you have a good song it can withstand to be dashed down a bit and it will still be great, maybe also more interesting as a composition. Another big influence is Ry Cooder, not just only as a great musician and songwriter but also, the last years, as a critic against an unjust society.
J Rae: You like to include an array of fresh elements that incorporates theater and humor along with unexpected surprises to keep it lively. What is the driving force behind all of this?
Christer: We deal with some heavy subjects such as alienation and suicide. And to do that without a little humor is asking too much of our audience. We also believe that a bit of humor makes it easier to obtain what Gibrish is about. We´re also a bunch of guys who love having fun on stage and want to serve something special and unexpected to our audience. That´s what we want ourselves when we see a show.
Erik: The "alderman" of the band is twice the age of the youngest member, and yet the latter guy insists that Gibrish is the youngest band he has ever played with. A nice musical compliment of course, but also an indication of the creative force: Why sit and worry about how to please people when you can have fun and make music you can be proud of yourself?
J Rae: Your lyrics are said to include stories of ancient folk tales mixed with contemporary social issues. Where does the inspiration come from when sitting down to write a song that takes you to that special place?
Christer: I always try to start in everyday life. What could happen to everyone? Trying to make it as easy as possible with a focus on a story with a main character is the idea. For example, the sad woman Dahlia and the homeless man Marabo and their desire for a better life that will connect to our audience in everyday life.
But we also like the magical stories from the old ancient Sweden. It's about witches, trolls and other mysterious creatures. We like those stories who tell so much where we come from, who we are now and what will become of us in the future. It´s all about identity I think. All about identity!
J Rae: Your music has been described as a "magical place where anything can happen". Sounds quite intriguing to me I must say but I have to know what is so "magical" about the whole Gibrish experience? And if literally "anything can happen" then please do tell us one thing that would and could happen at a live Gibrish show?
Christer: I think that we sometimes create a special mood at our shows that the audience may be a little unsure whether to dance or cry. We do not evoke magic spirits or fairies but a Gibrish gig sometimes includes an ad-lib Theremin dance show and a speedy accordion race. Our live sets are also quite improvised so nor the audience or the band exactly know what´s going to happen next.
Erik: Hmm…! Analyzing promotional stuff… Well, we try to reach the magic moments by leaving out many of the most common musical expressions. For instance creating empty spaces within the tunes to attract the listener to step into some sort of enchanted world. Yet another way of creating magic may be just sticking to a manic groove. It all depends… At a Gibrish gig you may certainly expect anything to happen, but that is mostly due to the character of the music and the band's sensitivity for the specific situation. Not because we´re a free form band or something like that.
J Rae: How is a Gibrish performance unlike any other out there?
Erik: Another image: Good actors squeeze in loads of information and emotion into their characters and then act in order to try and avoid the inevitable implosion. Every single Gibrish-tune represents different, potentially imploding characters. But still – the band won´t get into acting! The music carries out that work on stage.
Christer: I think we are a bunch of originals you will remember for a long time after a gig. Some remember our songwriting and our lyrics, many appreciate us as musicians at a high level and our routine on stage. Of course there are artists we look up to and learn from but I hope we have come a long way in our own stage language.
J Rae: Your debut album, 'Pantbanksballader', was released in 2012 and there is a new album in the works due out the winter of 2014. Please feel free to tell the Skope audience how well the debut record has been doing and also more about this upcoming release?
Christer: The debut album got some fine attention but released on a record company that didn't work with the album. So in a way it´s disappeared in the flood of records that year. Our debut album also maybe a little dark, artsy and inaccessible in a way. Our new album is much more catchy, more up-tempo and more folkish. We´ve deliberately tried to create a more accessible record and we´ve noticed that the new songs work very well live. The older songs create more depth and the new ones more party. It's a good combination. During the fall we´re finishing the last tracks and plan the release early 2015. We broke the contract with our first record company and right now we're looking for a new partner.
J Rae: I couldn't help but notice that Gibrish will be touring the U.S. come this August hitting hot spots in New York City, New Jersey and Pennsylvania to be exact. This has to be very exciting for all of you and wondering if any of you have ever been to the United States before? Please explain to us the built-up anticipation you must have of your upcoming trip to the states. And also why target the East Coast on this particular tour?
Christer: Yes, this is our first visit to US and it started with the festival Musikfest in Bethlehem, Pennsylvania who contacted us about a gig the 8th of August. When we decided to go, we contacted some clubs in the NY area and ended up with four more gigs at: Rodeo Bar, Pianos, The Saint of Asbury Park and The Way Station. Everyone who`s interested in our Nordic beat are of course welcome to meet us.
Right now, during the summer, we´re rehearsing our material, new songs, old songs and a handful of covers. One of them a beautiful and interesting tango from our neighbors in Finland. Hope it also will touch the hearts and souls at you Americans.
About Gibrish music it seems that we receive a better response abroad than in Sweden. Maybe the market and interest for more narrow and independent music is more accepted in countries like U.S.A. and England, where we're going to perform in October. Maybe it´s not a coincidence that also Tallest Man on Earth and Daniel Norgren are mostly performing outside the borders of Sweden.
Erik: It all started out with the opportunity to play at Musikfest which gave us the urge to find as many gigs as possible under a short period of time. You have to remember, we all have regular jobs to consider! And the United States… You know; I think Sweden is one of the most Americanized countries in the world. Maybe the mindset is quite different in reality, but there are so many American cultural expressions incorporated in the Swedish way of life that you sometimes think you´re a part of that country. A couple of members have actually been to school in America, but the guys who go there for the first time are more like kids in a huge candy store. Going to USA is a big thing to any Scandinavian. And yes; some of us will visit old friends and relatives living in the USA. Musically we will just have a laugh and play like madmen!
J Rae: When Gibrish comes to town, what can the U.S. audience expect to see & hear? Will you blow their minds & ears?
Erik: Of course you want to say: YES, WE SURE WILL! But at the same time Gibrish is not about quick sensation, rather an alternative voice in the hit and run-factory. With that kind of approach you can´t really expect an audience to go berserk immediately. A Gibrish-gig is built up step by step. And one of the reasons for us to have a repertoire "all over the place" is to be able to lure people into the music and eventually blow some minds and ears with groovy, speedy stuff.
Christer: We hope to get a very interesting meeting with the American audience. We will offer Scandinavian rhythms and vibes but also a couple of your American folksongs. There will be songs that get your feet moving but also songs for the ears and for reflection.
We describe ourselves as a rusty neufolkband where Swedish folksongs, stitchy blues, grainy rock and alternative country are mixed in a mortar of music. So the audience must be aware that they not get mixed down into the world of Gibrish!
J Rae: To help further promote your upcoming East Coast tour, what can you say to everyone out there that will get them pumped up beyond belief?
Christer: Don´t miss Gibrish on American soil. We´re maybe not the youngest or the trendiest band on earth. But sure are 100% heart and soul with a load of originality and quality!
Also bought a new hat, don´t miss that!
Follow Gibrish at Facebook: https://www.facebook.com/pages/Gibrish/198920670141102?ref=ts&fref=ts
Website: http://gibrish.se
Sonicbids: www.sonicbids.com/band/gibrish/
By Jimmy Rae (jrae2@att.net)