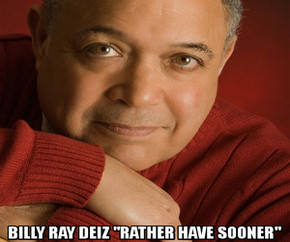 Oregon doesn't really fit the description of music hit makers, but according to Broadjam, Billy Ray Deiz's single "Rather Have Sooner" is climbing the charts and has so far reached #9. It could be because of his laid back bluesy vocals, or maybe the guitar chops of George Marinelli of Bonnie Raitt's band. Possibly it's the killer tenor sax by Jim Hoke. Whatever the case may be, people are feelin' the soul and you will too. For those who don't know, Billy Ray Deiz is part of the Snowy Mountain Boys, and Billy has been bringing his own brand of blues tinged soul for decades, beginning with The Seven Souls, who were part of the soul invasion, opening for James Brown and The Righteous Brothers in the 60's.
Skope: On your website I read that you mentioned The Blues Brothers as capturing the era of your sound. I really felt the connection between "Rather Have Sooner" and the Blues Bros. film. What is it about soul music that stands apart from other genres and how would you describe soul music?
Billy Ray Deiz: Soul music is just that, music you feel in your very Soul, music that moves you in some way, either to get you up dancing or to feel emotions like love and loss.
Billy Ray Deiz "Rather Have Sooner" Audio Video
https://www.youtube.com/watch?v=PEm_5JHZDOE
Skope: Tell us about the song, what's it about?
Billy: It's a classic R&B take on love! I actually wrote it about my wife–that line "every time I see you grin, I just want to get in to your life"…is what I felt when we first started dating. Whenever I perform it live, it always gets a great crowd reaction, gets people up and dancing!
Skope: You've got some Nashville players on the track as well such as George Marinelli, how did that come about and what can you tell us about them?
Billy: Producer Cliff Goldmacher has deep Nashville roots; he has been producing there for a long time and he also has a great philosophy to encourage songwriters: Cliff feels to properly present your song and showcase it to the industry, it takes using the best possible musicians on it. So when I brought Cliff into the project I brought his deep connections to the Nashville music scene.
Skope: Let's go back to the beginning, you started as part of the seminal group The Seven Souls… what was it like being part of a new wave of music and performing alongside James Brown? Speaking of James, have you seen the new biopic film about him? If so, is it in any way accurate?
Billy: The Seven Souls actually opened for James Brown and the Righteous Brothers at concert venues in Southern California but didn't tour with them. However, the Righteous Brothers' agent was our agent when I was with the band, and that's how that opportunity came about. Unfortunately, by the time they did open for those acts I was in training as a Marine Corps Rifleman. I did play at Bobby Hatfield's wedding reception when we were the featured band at the Beverly Hills Hotel.
Skope: What can you tell us about The Snowy Mountain Boys and how does that fit into what you're doing with your music?
Billy: When I first put up the website I was promoting a Country song I had written and then produced in Nashville, "Carolina Blue". The Nashville cats, led by John Osborne, did some awesome harmonies and I quickly dubbed them the Snowy Mountain Boys…thinking that if the record hit, we'd go on the road using that name. We're still waiting for it to hit!
Skope: Do you write all of your own music yourself or do you collaborate?
Billy: I have collaborated in the past, mostly with Henry Moore, when we were in the Seven Souls together. In fact a song we co-wrote together, "I Still Love You" has become a Northern Soul classic in the U-K. These days I am writing by myself.
Skope: Which do you love more.. performing live or crafting songs?
Billy: I like them both, but the older I get I only want to work with the best onstage, just like when I am recording. I get very impatient when folks don't measure up.
Skope: Are you touring in support of your single and is there more than just the single available?
Billy: "Rather Have Sooner", our single, is featured on the Mighty Girl ep on Amazon.com and on iTunes. I am not touring right now but hope to at some future date.
Skope: After leaving The Seven Souls to be drafted and serve your country, how long did it take for you to rediscover your music and get back into it? Was it a process or did you just jump right in feet first? How did Vietnam affect your songwriting, if at all?
Billy: I was lucky not to go to Vietnam. Instead, as a member of the Marine Corps Reserve I went back to my unit in Portland and served with them for four years as I finished college and started my career in broadcasting. But I never stopped writing songs and playing with bands, most recently with Dreamland Cafe here in Portland. While we were together we recorded several of my originals, which was a kick!
Skope: What's in store for Billy Ray Deiz and The Snowy Mountain Boys? Where can fans find your music and check out "Rather Have Sooner"?
Billy: Right now the Snowy Mountain Boys are on hold. But I keep plugging away as a songwriter. I am also writing a memoir of my time forming and then heading to L-A with The Seven Souls. You know, that was also the band that the late Bob Welch was in before he went to Fleetwood Mac! And after we took L.A. by storm, and I had to leave for the Marines, while they headed for Paris, France and made a big splash in Europe!
Be sure you download the single "Rather Have Sooner" at The Snowy Mountain Boys Official Site here http://snowymountainboys.com or go right to the single and e.p. Mighty Girl on iTunes here – https://itunes.apple.com/us/album/mighty-girl-ep-ep/id516306109
Douglas Garnett – douglas.garnett@gmail.com