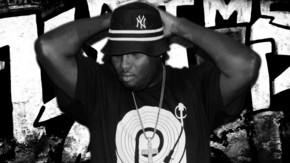 If you had to describe yourself in a paragraph what would your first few sentences be?
I'm a down to earth type of guy  that live by principals and strive for greatness everyday I'm a people person and I love being in the studio all day creating good music for me and people like me.
How did the name Dotcomm come about and who are your greatest influencers?
Wow I had a lot of rap names like Lyrical Comments, Loose Cannon and many more but I came up with my name back in 2005 while writing a verse at Milkboy Studios in Philly. I needed something to flow with stop sign in my lyrics so I came up with a bar like "I LEAVE YOU RED LIKE A STOP SIGN- SO YOU CAN TELL YA FRIENDS ABOUT DOTCOMM-" And over the days I came up with a meaning behind my name. I grew up listening to KRS-One, LL Cool J, Chubb Rock, N.W.A, Bone thugs n Harmony, TuPac and Biggie etc. They gave me the game they were my older brother's at that time of my childhood life. My father wasn't around and I was the only boy in the house growing up. So the streets and music were my mentors. If I needed game on how to get a girl I'll bump some LL and if I was going thru something in life I would listen to some Tupac. And if the cop's bothered me and my homeboys I would straight blast me some N.W.A.
So you've been in this rap game for some time so how did you get started and exactly how long has it been? How many albums?
I've been doing music around 14 years and it all started with me rap battling in my school and around my neighborhood. At that time there wasn't a lot of Emcees's my age rapping so me and my little crew traveled to other neighborhoods in Philly and challenged them to a rap battle. Throughout the years I started transitioning and perfecting my craft by actually  writing my own  music and hitting the studio to record. I have two Digital Albums online right now called "We Don't Pray 4 Suckaz" that was released in 2013 and followed up with the sequel "We Don't Pray 4 Suckaz-2" which was recently released worldwide this year.
"That Boy Good"
http://k007.kiwi6.com/hotlink/1p5s8xs72s/DOTCOMM-_THAT_BOY_GOOD_Explicit_Version_.mp3
Where do you draw your inspiration and do you see where you've progressed over the years or would you say you've changed your perspective?
I get inspired by my actual life experiences I go through daily. And if you hear my music from my early stage and compare it to my new content of music you can distinguish the two sounds. You'll hear the growth.  So yes I can say I've changed my perspective on how I compose my music of today. I'm recording heartfelt records, I'm recording music that you can listen to ten to twenty years from now and it still it gives you that feeling as when you heard it for the first time. That's the kind of music I put out now. Before I would just go in the studio and try to create the perfect punchlines but if you observe now you'll see the progression.
How many videos have you made and how many lives have you touched in your opinion. What is the message you want your fans to remain with?
I've made over twenty music videos in a span of two years with my team. Some say they're hot, dope, crazy and others will say they can relate to them. But hopefully my videos can touch them in a creative way and I would want to leave my fans with the "you can do it attitude." That is you can be anything you put your mind, body and soul to. Just keep GOD first through any and everything you do.
What's your writing process like? Some just get in the studio and spit while others have to write it down so as not to lose any of the flavor.
When I hit the studio and hear that beat that moves me I come up with a melody first, then I mumble words together and start nodding my head back and forth. Depending on the vibe of the beat I might come up with the hook before the verse. Now once I'm in my zone I start writing in my rap book or my phone and begin creating magic.
I understand you were on the stage with Mozaic Flow and Dice Raw at the legendary Blue Note in New York. What was that like performing with a live band and legends. How did it all come about?
Well we all respect each other as men first and music second, but what can I say them boys are nice and very talented so collabing with them was a beautiful experience for me. I've never performed with a live band yet alone at an all famous Jazz club so yes Dotcomm had butterflies that night at the Blue Note. Overall we killed it and the fans enjoyed the show so Big shout out to my management team Damon Carter and Curtis Pierce they orchestrated the whole thing.   
"Time Da Get It Right"
http://k007.kiwi6.com/hotlink/4llkt1g7h6/DOTCOMM-_TIME_DA_GET_IT_RIGHT.mp3
Off this current album what are your favorites and why?
That's a hard one because I love every track from beginning to end, but if I would have to pick it would be "Driving Me Crazy Featuring Cara Braia." The reason being because the track was based on a young girl from around my old neighborhood that had the world in front of her but she laid down with the wrong guy that didn't share the same interest as she did. She wanted to go to college and be a lawyer while he wanted to be a goon on the streets and sell drugs all day. So now they're expecting a baby boy and she's still trying to finish school and get a part time job while he's caught up in the streets trying to make a quick buck not knowing how his absence is affecting her pregnancy mentally. So now the baby is born the hustling didn't work out for him. So she ends trying to manage taking care of a baby, going to school and juggling a part time job with no help from their parents and reality kicks in from both ends. So I'm basically narrating they're situation and the obstacles their facing in song.
I understand you did a boxing video for your single that Boy Good what was that like?
That was another great experience for me my homey Lbs215 directed that video. I enjoyed shooting for it was a different look from my other music videos I've put out. The semi pro boxer got his cameo on in the video and I felt like a champ that day. We experienced a few minor setbacks but overall I had fun the entire shoot.
What can we expect from Mr. Dot and where can we find all of your social media?
You can expect more music, more videos and more shows. I'm going to give my fans what they want and that's greatness.  You can find new exclusive music on my website www.DOTCOMMONLINENOW.com you can follow me on www.twitter.com/darealdotcomm and like me at www.facebook.com/dotcomm215.
Stay tune for a review of That Boy Good, Time 2 Get it Right, When I Get Home ft Esha J and other singles Dotcomm has coming out.
By LA Virgil, MBA – www.hismultimedia.com – lavirgil2010@gmail.com