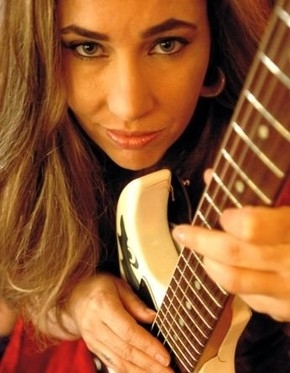 Hello there my fellow music lovers. It is so good to see you all here again. Another week is upon us, and wwho knows what this week will bring. So it looks like Mark Cuban i sgetting in on the music biz with http://soundwave.com. Mark Cuban, says "Soundwave is now the exclusive app for taking the pulse of music lovers around the world.  It's a fun app for users for sharing music and seeing what people around you are listening to, and it has incredible big data implications for the music industry." If Mark Cuban is behind it I will be watching for sure. I also want people to be aware of http://www.nastraq.com. Nastraq is a dynamic music distribution platform where every song starts at $0 and increases with demand. It looks like this is becoming a relaity as Kamil Grzych, Founder and President of NASTRAQ, the music and video stock market announced today that NASTRAQ was just funded taking NASTRAQ from its beta release to production. That is so exciting and innovative. Now lets get back to the music with Amy Schugar and her new video and single "500 Miles." I caught wind of Amy's new video for "500 Miles" and I was put in a musical trance. The bluesy groove and her vocals just take me there. Join us today as Amy speaks on everything from "500 Miles", positive feedback via social media, central American children crossing into the US, and so much more!
Stoli: How is your summer going and how does a normal day for you start out?
Hello, My Summer is going well, I am working on music and getting some decent music jobs to keep things going. My day starts with coffee, yoga, and some meditation, and I am a conic list maker, so I check my list off as I get things done.  One of my projects this summer is restoring my 1937 Citroen Car. It is a daily driver and I use it a lot. Really fun car and I like to enter into the car shows.
Stoli: They say that too much sugar is bad for you, but how abut too much Amy Schugar?
That's funny, with some people, they can't get too much Schugar , or so I hear.
Stoli: Offer readers a brief history on you and how music became more than just a hobby?
I started at 14 playing acoustic, I did not sing too much at the time, I entered some bands as I got older, as guitarist, but then started singing more…Michael Schenker really really encouraged my singing, and lyrical style, and had it not been for incorporating more vocals, I would have not moved along like I have. Singing is so important, and I try to instill that concept to my students.
Stoli: Who are some musicians that you have met along the way that inspire you & you learn from today?
Eric Johnson really inspired me with his style and attitude. He seems to conduct his life properly and I share and understand his attitude for healthy life style with diet and meditation. That belief for me, combined with "structured Practice " that I learned from Micheal Schenker really helped me along.
Stoli: What does music offer your life personally & spiritually that nothing else can?
Music helps me release my inner soul. Music helps me bond with the community. Music helps me help the community and those around me. Have you heard of "Bards"?? Music is therapy. There is a great book by Author Michael Riversong that explains the different Modes and what music can do in helping people, and the tonal structures of each mode. In Celtic and  Greek Society before much written history, Bards started the healing with Music. Music is beautiful and such a gift, and when I am offered jobs/gigs, where everyone wins, there is nothing like it. Music can also deflect a stressful situation. If I am very bothered, getting ticked off, I can sing in my head a silly song, and suddenly, the person in front of me is not bothering me, and I can think clearly again and work out the situation without conflict, or at least, mitigated conflict.
Stoli: I am loving the video/single for "500 Miles." When did you write that song and is that based on your real life?
I wrote that song awhile back, and at some point had a long distance situation that inspired the song. However, I think many of us have shared an experience with being far away from someone we cared about, either by military involvement or traveling situation. Thanks for the nice words on the song, we had a great time filming. and I have fun singing bluesy type music.
Amy Schugar "500 Miles": http://youtu.be/43XNeFcQFGs
Stoli: Who came up with the concept for the video and how does it relate to the video?
Layna McAllister is a master. She is the one that heard the song, and developed the visual ideas for it. The song struck a 'chord' in her when she first heard it. I have known Layna since I was a kid. Master McAllister I call her ! She has worked on another video coming out in the next few months, that is more edgy. My friend Armand Melbardis did the 'acting' part of the 'fake boyfriend' thing. He is a really great violinist also, and you should check him out.
Stoli: How do you feel when you read comments like, "Awesome song! Love your music!"
A nice sense of accomplishment, and it feels good when people are happy and you have made them smile.
Stoli: President Obama is sending abandoned children from central America all over the USA. Do you think our government is too worried more about foreigners than our own people?
Yes, I am really nervous entering into this conversation and having it in print. Suddenly by this question, I need to sing that happy duck song I was telling you about to deflect my emotions about this whole deal. These poor kids and people…it seems to me, no one is winning from anything going on. I know that I have to seriously struggle to get ahead, and I am in the middle economically.., so I get nothing from the gov, and have not any insurance at the time (only "insurance" I have is trying to eat organic, yoga, exerciser, vitamins, sleep, no drugs or alcohol, and take care of myself) so, I have to wonder, who is paying for the health of these people. I really think our world is in danger, and birth control better be put into place or taught on how to keep too many new babies coming into this world.??  I wonder what your thoughts are on this whole thing and why would this be happening? There must be a reason this is going on right now. I am considering de registering to vote, because so much is going on on a serious level that I or many people I know, never voted for! What is the point of voting, if we are not heard or counted?? We trust the people we vote for at the time.. all of America is upset it seems.
Stoli: How do you consume music these days, radio, Internet, social media, etc?
Many times by the job. I have to learn many different styles of music for different situations, while still working on my original music. I need to listen to more radio however, and research sometimes what is the new thing.. but every time I do, often, I am disappointed or confused, and don't 'get it' ..music styles and things have really changed, and so much seems to be 'fad like' rather than much vocal talent or music related talent…much is very good also,, but, I just don't do much of the rap music and gone it seems are the days of Jeff Tate style vocals or Lou Gramm style singing.. awww., those were the days..such great great vocalists and guitarists you could hear on the radio..
Stoli: What is coming up for Amy Schugar and where you @ online?
Another new music Video coming out , and new Endorsement by the Sonuus Company, great people!! Still working with Floyd Rose and Adam Revier, Randy Fuchs and Cole at Thimble Slide. Please see Coles site. KDL and Best Cable.com I still use. They are hand made products and well worth every penny. I love Jim there..tell them I sent you.   Also Trace at Voodoo Amps needs a shout out as well. What a killer product and mod Voodoo amps  did for me on my Marshall JMP 1 . Thanks guys!  Robert Keeley is well worth a check out. They do a killer mod that you can hear the difference with back to back. Can't forget Daisy Rock  they are a great company and product  I love to turn my students on to. Daisy Rock sent me a couple of guitars, and they really play great, especially the acoustic model . I teach with that one. I have it always with me.It is one of my main guitars. It just plays fantastic!  For many of my live gigs however  I am playing my Martin D 28 , and a 1973 all original Fender Stratocaster and a custom Built guitar I designed from from an Ibanez RG 550. For the 7 string music I will be working on, I have a rare 91 Ibanez Universe with maple fretboard. These are my main guitars currently. However I have a lot of guitars.
My website is Http://Amyschugar.com and I can be contacted directly there. Or you can purchase a CD there that will include an autographed photo also.
My Facebook is: https://www.facebook.com/amyschugar/info
Twitter page: https://twitter.com/amyschugar
CD Purchasing is easy also at CD Baby:
http://www.cdbaby.com/cd/schugarschenker
Thank you so much again for the great questions and interview!