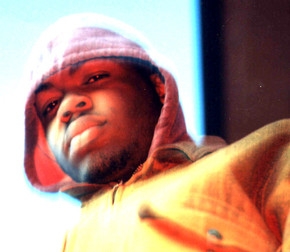 [DaForce is hustlin' hard to get heard, and with 2 new singles comin' up, an e.p. and a mixtape… it won't be long before DaForce is rockin' joints everywhere. Right now his singles "Go Go Go" and "Bala" are getting airplay, including on Skope's own radio. To hear more from DaForce about his grind, we bring you DaForce…
Skope: You have 2 singles out right now so I guess I will ask about them one at a time. "Go Go Go" is from your upcoming e.p. also titled "Go Go Go", what's that track about and since it's the album title track, is there a theme throughout the e.p.?
DaForce:Basically the track is happy fun track, no real drama involved especially because the setting is a club setting and clubs are for people to socialize and leave your everyday problems at home.
Skope: The 2nd single is "Bala", what does that mean? Tell us a little bit about the "Big League Mixtape"?
DaForce: The meaning of Bala is Ballers laughing allday,just stating my current situation in life, Im able to do what I like and have fun with it, so I consider myself a baller. Yeah the big league mixtape was a project that has been in the making for awhile. I wanted to showcase of the talents I love and respect. we have a few featured named acts that are featuring on the mixtape. It's all fun with alot of truth.I consider it as my biography musically starting in chronicle order. I want people to understand even though Im a hip hoper at heart, as a song writer/music producer I create music, universal music
Skope: How long have you been rhymin' and what inspired you to get into the game?
DaForce: I've been rhyming since I was a teenager, I grew up with music and knew I wasn't gonna make it as a singer cuz i sucked badly lol a harsh reality that is so true hahahah. But as a kid I knew I'd be in the music business.
 
Skope: Do you have any favorite artists that really made you decide that one day you'd aspire to become one yourself?
DaForce:I was inspired by Motown down to MJ and Prince and Im still being inspired by upcoming artist today, and I feel its much easier for me as I'm musically split between a rapper and a producer.
"Bala"
http://www.youtube.com/watch?v=mWGlQqG1YJ8
Skope: I read that you play guitar by the age of 5 and drums by age 9, how did learning instruments help you as a rap/hiphop artist?
DaForce: It helped me to know to recognise how genres different music are put together and also to recognise how all music is related to each other in orchestration. And of course It's been years since I've played those instruments seriously, but was fun.
 
Skope: You're currently signed with Unknown Source Music, who are they and what do they do for you?
DaForce: Unknown Source Music is the label that has been involved in my career from day one. I have been able to get a small piece of ownership in the label. Unknown Source Music biggest function in my career is the marketing budget they provided for me to grow with.
Skope: When can fans expect your e.p. "Go Go Go" to drop? Or the mixtape "Big League"?
DaForce: Both releases will be available this summer, not sure which one will drop first but if I was to guess I would say Go Go Go would be that choice because That release is  more of my producers album and Big league more my rapping release which is a different type of record.
Skope: Where can fans learn more about you? Do you have an official site?
DaForce:Fans can almost find me everywhere on the web, my official website is www.Daforcedawg.com and on social sites: https://www.facebook.com/pages/Daforce/458774874188208, https://twitter.com/unksmusic, http://instagram.com/daforcedawg
Skope: What's next for DaForce?
DaForce: Working on a project with Curtis Dayne who is a singer on the rise also, His Ep will be dropping either in the spring or summer as well we are just rapping up the video's setting up the promo tour. So hopefully you will see us in your city doing our thing.
To read or find out more about DaForce, check him out at http://unknownsourcemusic.com/daforce.html + http://www.last.fm/music/DaForce + https://www.facebook.com/DaForceDawg1
Douglas Garnett – douglas.garnett@gmail.com