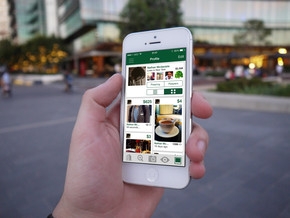 Celebrities love to show off so its only natural that the flashiest of them all would latch onto an app that makes it a lot easier for them to flaunt it. PeepMe is a new Social Network, which harnesses the power of peer purchasing influence, thus creating an outlet to immediately share new purchases with a community.
 
Drake, Scott Disick, Kim & Kourtney Kardashian are a handful of early adoptions of this new outlet to show off that bling. Since celebrities hold some of the strongest positions of influence, its only natural for them to jump onto this new form of swagger. Drake posted a picture of his $3.4 million Bugatti and Scott Disick has posted a picture of his Lamborghini, Gucci loafers, a Rolex & him in a private jet on the way to the Hamptons.
 
On PeepMe, users share their spending, buying, and selling lifestyle with each other by posting images of items they've purchased along with the price. The app aggregates a total amount spent on the user's profile thus creating a digital competition of sorts.