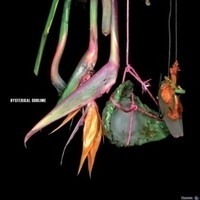 This 4 song e.p. by the Italian indie rock group Hysterical Sublime is both atmospheric and textured, with soft dynamics running through each carefully crafted track.
The e.p. begins with harmonized vocals on the song "Colour" before it's journey into synth pop. There are some similarities to Nine Inch Nails and the 90's group VAST. Dance driven with some droney guitars, the song often drops into vocal 'colours' an apt name for this ever evolving song. There are some nice strings underneath the vibrant industrial track.
Next up is "Gimme", with it's 80's indie pop sound in full swing. A little David Bowie and Depeche Mode, with some nice strings setting it apart from the rest of the bands that have resurrected this warm genre. Morrissey is another one that comes to mind, at least the vocals. The guitars are reverb soaked and unique as well.
Videos – http://www.hystericalsublime.com/videos-official/
"Control" kicks off with a nice wavey floaty keyboard. The song borders on ballad, but it works well for them, especially with all of the ambience. A little bit Kid-A Radiohead at times, but the song kicks into a rock groove for the choruses and really lets things loose with a bit of U2 guitars.
Info – http://www.hystericalsublime.com/colour-release/
"Where" nicely rounds out the e.p., there are so many influences on this that it really is difficult to put any one particular artist that stands out as an influence, which is nice, it sort of makes it their own. The players are all very capable and the production is pristine for a gritty yet ambient driven e.p. that's perfectly intimate with a 90's familiarity and modern poetic journey.
Hysterical Sublime is definitely influenced by the UK bands that are still around, minus One Direction most likely… but they've been able to capture the magic of some of the best these bands have had to offer and made something new and creative, the e.p. evolves from song to song and though it's not a long journey, it feels pretty epic to these ears.
http://www.hystericalsublime.com
Douglas Garnett – douglas.garnett@gmail.com