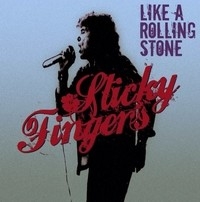 Sticky Fingers is known around the globe as the premiere Rolling Stones tribute band, selling out venues and out stoning The Stones. Now, singer Glen Carrol and company have brewed up a delicious beast of an album "Like A Rolling Stone" that covers the musical terrain of the 60's and 70's era classic rock sounds.
The album kicks things off with "One Way Street", a hard rockin' track that reminds us why The Rolling Stones ruled back in the day, but this one is all original and is sure to get you movin'. The slide guitar is top notch.
"You Baby You" is a blues rock anthem that you would swear was penned by Mick Jagger himself.
Things slow down for "I Miss The Good Times", another bluesy number with soulful keyboards and dirty guitars driving the song.
"TRIBUTE"
http://www.youtube.com/watch?v=iqFRe6PlT9I
"Knockin' On Heaven's Door" is definitely a staple of classic rock, and Sticky Fingers cover the song with the same finese and style fans expect from a band of this caliber.
Next is "As Good As It Gets" a slide guitar blues banger that gets right back to the heart of the Stones sound, maybe mixed with a bit of "Bang A Gong".
"Tribute" is a mishmash tune, using the beat and melody from George Thorogood and the Destroyers or a slowed down "Bad Reputation" by Joan Jett. Lyrics are borrowed from several Rolling Stones songs, including "What's My Name" and "It's Only Rock-n-Roll".
"At First Sight" is a soulful blues ballad, it sounds perfect for that dive bar late at night where men go to drown their sorrows.
"Christine" picks up the pace and brings back the dirty R&R to a 3 bar blues rhythm. Plenty of guitar chops on this one, with tradeoff solos and a bouncing piano riff chugging along.
"Lady Blue" slows things down again with a loose but soulful blues tune. The horns add a nice touch to the song. The song captures the essence of 70's AOR, bringing to mind The Boss [Mr. Bruce Springsteen] as well as the usual suspects.
"White Roses" is a song about a lover who's married to another man. Some cool slide guitar and finger pickin'.
"Her Very Last Time" closes the album on a high note, pulling out all the stops with this adrenaline filled rocker, letting you know that Sticky Fingers is a real contender.
In the world of pretenders, Sticky Fingers is at the top of their game. But Like A Rolling Stone shows us that they're a whole lot more than another cover band and they can certainly hold their own with original music that you swear you heard before somewhere but can't put your finger on it. Well, now you can. Check it out.
Douglas Garnett – douglas.garnett@gmail.com